Current Student > Information Services > Student Center
Student Center
Student Center Upgrade – November 2 to 12 - Service Availability

Between November 2 and 12, Western is upgrading the Student Center system (student.uwo.ca). During the upgrade no updates can be made to the student system and you may experience some disruption of services.  Of note, the following services will NOT be available:
Admissions Updates – updates to any active graduate applications you may have with Western cannot be processed from November 2, to 12, 2012.  SGPS will be unable to generate updates to your application status or produce offers of admission during that time.  Additionally, you will be unable to accept an offer of admission.
Transcript Processing and Online Transcript Ordering – if you require a transcript before November 15, please submit your order by November 1.  Orders submitted after the upgrade begins cannot be processed until after November 12.
Online ordering of Official Western Letters.
Updating address, telephone number, and emergency contacts – please update this information before November 2 or after November 12.
Adding a Release of Information.
Updates to tuition account balances for payments received by Western from November 2 to 12.
Payments from Student Center.
This upgrade is a collaborative effort between the Office of the Registrar, the School of Graduate and Postdoctoral Studies, and the Western Information Systems Group (WISG) and will bring us up to date with technology, ensure long-term sustainability, and position us to implement new functionality in a few areas that will be important for current and future student services.  The overall look and feel of the upgraded Student Center will be very similar to our current version.

Service disruption timeline:

Friday, November 2 (after 4pm) to Monday, November 12 (before 9am) – users logging into Student Center may experience service disruptions (error 404) outside of core business hours.  If this occurs please try again between 9am and 4pm Monday to Friday.

Monday, November 5 to Friday November 9 – Student Center will be available for inquiry only. This means that users will be able to view data on the system but will not be able to make changes. 

Monday, November 12 – upgraded Student Center will be available for start of business day.

While we regret any inconvenience this service disruption may cause, we wish to assure you that we have taken all possible steps to minimize the disruption to all users. 

Thank you,
The School of Graduate and Postdoctoral Studies
In order to access the Student Center, please follow these steps:
Obtain your Western Access Code


You can obtain your Access Code online through Western Access Code Retrieval. You will require your Western Student Number, Date of Birth and your Social Insurance Number.



Obtain your Western Digital Identity information 


You can gain access to your Western Digital Identity by visiting the Western Information Technology Services (ITS) website.

 


Access the Student Center


You can now access the Western Student Center.


*If you believe your e-mail password has been compromised, you can reset the password through the Western ITS Center.
The home page of Student Center provides you with a summary of available features.  It is divided into four sections:
The first summarizes your personal information.  It also connects you to Western's Share a Ride program.

The admissions summary provides with any relevant details relating to active applications you have with Western.

The academics summary provides with you connections to elements of your registration at Western.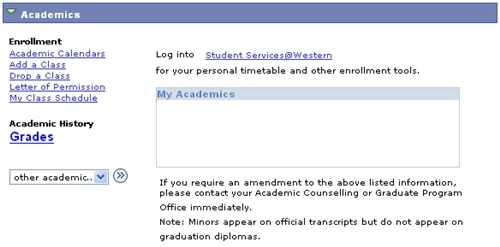 The Finances section provides financial details and links relating to your student account, including scholarships, charges and payments.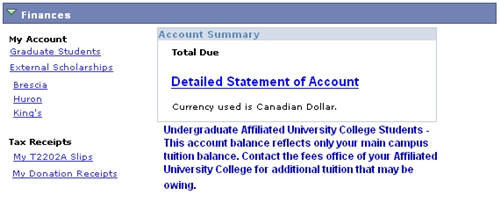 Students use the Self-Service Personal Information pages to view, add, change, and delete personal information in the Student Administration database. Students can access each transaction individually or use the Personal Information page to review all personal information at once. Buttons on the Personal Information page provide quick access to the various transactions that students can use to make changes, if necessary.
---
Demographic Information
View a summary of your demographic data such as your date of birth, gender, marital status, national ID, and so on.
---
Addresses
View your current address types as permitted by the Type Control page, and the associated address data. When accessed from the edit button, edit or update your addresses. After submitting a new address update, Change Address page confirms new information and allows for new address information to be future dated.
---
Phone Numbers
View and update your current phone types as permitted by the Type Control page, and phone numbers.  Buttons on this page also enable you to add or delete rows to add or delete phone numbers.
---
Email Addresses
While not permitted to change your primary Western e-mail address, you are permitted to request that their uwo e-mail account be removed from the Western Directory. Direction is also given regarding where to visit to set up your UWO e-mail account as well as how to forward your UWO e-mail to another account.
---
Emergency Contacts
View and update the name, address and phone number(s) for your emergency contact. Graduate students are not asked for an initial emergency contact.  This information is only collected through self-service and accessible to Western staff in case of emergency. 
You may check your admission status for any graduate applications submitted to the University of Western Ontario through the Student Admssion menu. 


---
Application Status
From this page, you may see a summary of all historical and current applications.  The Student Center summary page displays only those applications currently within the admissions process.
---
Accept Admission
You may view your application status and accept or decline admission using these self-service pages. 
You may check your current fees balance and financial awarding status online through this option. 



---
Account Inquiry - Account Summary
You may use this page to review a summary of outstanding charges, payments, pending financial aid, and total due.


---
Account Inquiry - Account Activity
You may use this page to review all of your account activity that has transpired over a fixed period of time – activity that includes anything that has been posted to your account, payments, charges, financial aid, refunds, etc.
---
View Financial Aid
View a detailed summary of your financial aid by aid year. This includes the type of award and the offered and accepted amounts for the aid year and terms within the aid year.
---
Graduate Student Payments from the Student Center
Graduate student payments are issued every Tuesday evening from the Student Center.
When a graduate student is in a credit balance a payment can be issued in one of two ways:
Electronic Fund Transfer (EFT) is available to any graduate student who provides Western with an active bank account using the MyHumanResources self service application using their HR Western computer account login and password (which may be the same as their student account). Graduate students with questions regarding their Human Resources account may call 519-661-2194. A graduate student receiving a payment to their bank account will be sent an email the day the payment has been issued.
In cases where a graduate student has not provided a bank account a cheque is printed and distributed to the student's program.
---
My T2202A Slips
You can view and/or retrieve current or historical T2202A slips online through this page. 

---
My External Scholarships
You may monitor and activate or decline external scholarship competition applications through this page.

Some graduate students are able to register for courses online.  Check with your program if this is a feature they are currently using.



---
Enrollment Dates
Your enrollment appointment date and time set the availability of your access to Adding/Dropping classes in Student Center.

---
My Class Schedule
You may use this page to view your class schedules for a term. 
---
Enrollment: Add Classes

You may use this page to add classes scheduled for the upcoming term.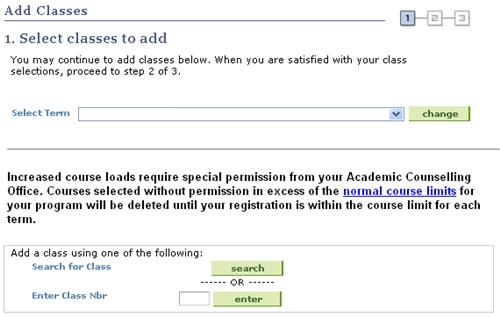 ---
Class Search
Class Search allows you to find the classes you may wish to register in.  Note that the unique identifier for enrollment is not the Catalog Number but the Class Number; a four or five digit number unique to each individual term and course.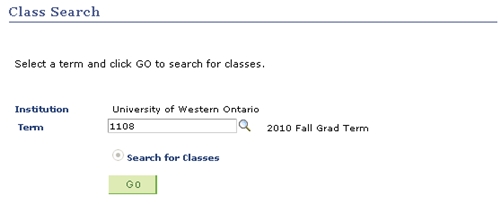 Graduate students can view their academic record, transcript status, grades, and any honors or awards they have been given.
---
Honors and Awards
View a summary of your honors and awards.
---
View My Grades
These grades are a point in time posting and may not reflect the final grade and/or grade review status for the term. Check studentservices.uwo.ca for more details.
---
View Academic Summary
View an unofficial copy of your academic record. Current term grades are a point in time posting and may not reflect the final grade and/or grade review status for the term.

---
Official Transcript Status
Student can track current and historical transcript requests made through the Office of the Registrar.
If you are a graduate student completing your degree you are required to apply for graduation through the Student Center.  These pages walk you through this process and allow you to confirm degree information prior to convocation.
---
Apply for Graduation
If you anticipate that you will complete your degree requirements within the current graduate term, and be eligible to graduate at the upcoming convocation, you must apply to graduate via the Apply for Graduation option.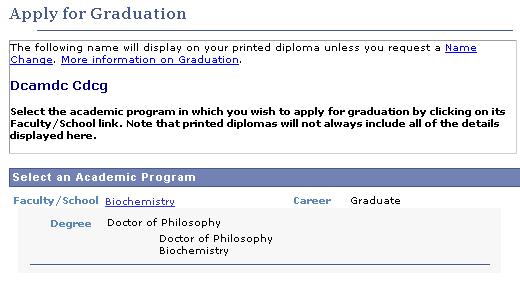 For additional details concerning convocation at Western, please visit the Convocation at The University of Western Ontario website.
---
View Application for Graduation
You can confirm your application for graduation by selecting the View Application for Graduation option.  This will provide a summary of the application.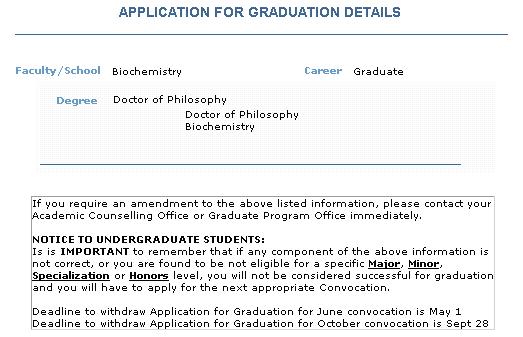 Graduate students currently on an outbound visiting enrollment will have their pending transfer credit listed within Transfer Credit in Self-Service.  Once grades have been submitted for this exchange, those grades will be posted as well. 
---
Transfer Credit Report
This historical summary will list all transfer credits posted on a student record during their career(s) at Western.