Jane Goodall Research Award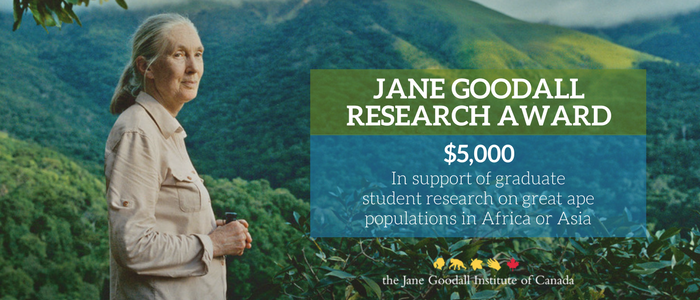 The Jane Goodall Research Award (JGRA) focuses on providing financial support to graduate students investigating great ape populations in Africa or Asia. Preference will be for: female researchers just starting their careers (i.e. 'the next generation of Janes'); students from Canada, Africa, or Asia; and projects investigating how community conservation efforts undertaken by the Jane Goodall Institute of Canada (JGI) are impacting great ape populations. It is expected that by funding these researchers and projects, it will be possible to better determine great ape conservation priorities, support the professional development of primatologists, and quantify the effect of work done by the JGI on the health and wellbeing of sympatric communities of great apes and humans.
Annual Value of the Award
Eligibility to Apply
Must be a registered full-time graduate student at Western University.
Must commit to a research project that deals directly with investigating great ape populations in Africa or Asia.
Must be a citizen of Canada, a country in Africa or a country in Asia.
Deadline
Please send your completed application package to:
Erin Daley
Scholarship Coordinator
Western University
School of Graduate and Postdoctoral Studies
International and Graduate Affairs Building, Room 1N07

Electronic applications may be submitted via email to edaley2@uwo.ca
Conditions for Acceptance and Continuance of the Scholarship
Recipients will be required to provide Dr. Shawn Lehman (shawn.lehman@utoronto.ca) with a 3-4 page lay summary report on their study outcomes, as well as a sample of photos of their research in the field.  This must be done within two months of the completion of the project.


Note: these materials may be used as part of a research advertising campaign for JGI.

In addition, recipients may be invited to make a short presentation on their research project.