Research Forum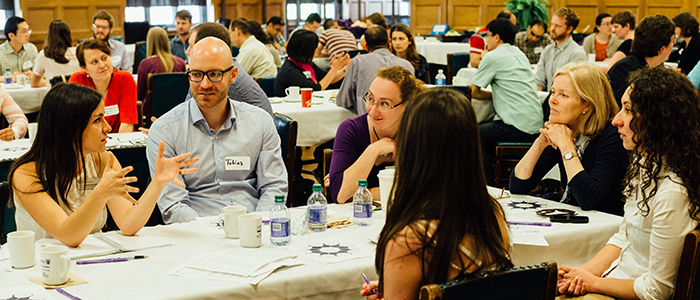 Thursday, May 7, 2015
The Postdoctoral Research Forum was created by the School of Graduate and Postdoctoral Studies to foster scientific interaction, interdepartmental collaboration and garner greater exposure and recognition for the postdoctoral scholars' invaluable work. The 2015 Postdoctoral Research Forum will be hosted on Thursday, May 7 in the Great Hall. Registration is required in order to participate.
8:30 am – 9:00 am - Registration
9:00 am – 10:00 am – Research Integrity Workshop - An overview on the TriAgency framework, Western policies and university oversight, components of responsible conduct for postdoctoral scholars (data management, publications, conflict of interest, certification), training and education tools, opportunities and resources.
10:00 am – 12:00 pm – Leadership Skills for Postdocs, interactive workshop facilitated by Prof. Mary Crossan, Ivey's Institute for Leadership
12:00 pm – 1:00 pm – Lunch/Keynote address - Damian Cruse, postdoctoral scholar in Psychology, will share his career journey and successes!
1:00 am – 3:00 pm - Strategies for Effective Grant Writing - TriAgency grant reviewers will examine the mechanisms of writing and assembling a successful grant!
3:30 pm – 5:00 pm - 3 Minute Research Competition - showcase your own research in 3 minutes
5:30 pm - Award Ceremony and Reception
3 Minute Research Competition
2015 Winners
1st Place: Lauren Solomon (Microbiology and Immunology)
2nd Place: Nina Weishaupt (Anatomy and Cell Biology)
3rd Place: Tobias Morat (Kinesiology)
The 3 Minute Research Competition is a research communication exercise where postdoctoral scholars have 3 minutes or less to present their work and its impact to a diverse group of audience members. Modeled after the Three Minute Thesis (3MT) Competition for graduate students, the exercise develops overall communication skills and competencies in the explanation of your research in layman's terms.
Registration is required in order to participate and all presenters must submit a single, static PowerPoint slide to Mihaela Harmos by May 5 at noon. If we do not receive the slid by that date/time, you will not be accepted in the competition.
Prizes for the 3 Minute Research Competition will be distributed at the Award Ceremony and Reception at 5:30pm. Cash prizes are given to assist winners in attending conferences in order to promote their research and further their career network.
1st place: $1000
2nd place: $500
3rd place: $250
For further information please contact Mihaela Harmos, Postdoctoral Services Coordinator.
Postdoctoral Supervisor of the Year Award
2015 Winner: Dr. Daniel Ansari, Canada Research Chair in Developmental Cognitive Neurocience
Recognition will be given to Postdoctoral Supervisors who have demonstrated exemplary support for postdoctoral scholars at Western by going above and beyond supervisory expectations. These mentors have given their time and put forth extra effort to ensure a successful experience for postdoctoral scholars. One Postdoctoral Supervisor will be honored with the Postdoctoral Supervisor of the Year Award at the Research Forum on May 7th, 2015. Please send your nomination letter (2 page maximum) to Mihaela Harmos by May 1 at noon.
Eligibility:


All faculty in all Departments and Programs at Western who supervise Postdoctoral Scholars are eligible.

Nominations must provide evidence that the candidate provides:

a role model for intellectual leadership and professionalism in research,
an exemplary environment of support for professional skill development in research,
advocacy and guidance in long-term personal, professional and career development.

Nomination Process:

Nominations are to be initiated and coordinated by the School of Graduate and Postdoctoral Studies at Western. The process of reviewing and selecting the nominations will be confidential. Candidates must not see the letters of nomination from postdoctoral scholars nor be aware of who has, or has not, contributed a letter. The successful candidate will be announced during the Research Forum and presented a Postdoctoral Supervisor of the Year Award.