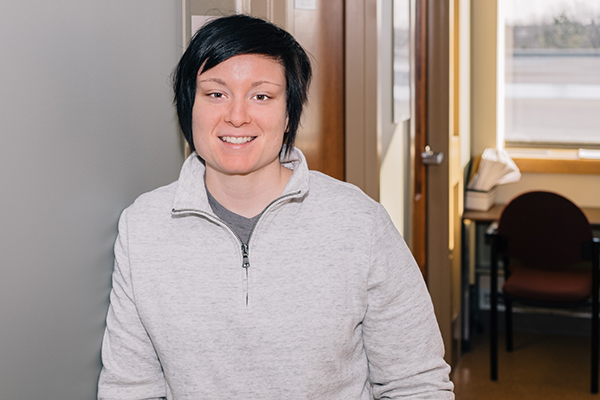 "The PhD program in Sociology was a perfect fit in terms of my research interests and the strengths of the faculty. My supervisor has been instrumental to my personal and professional growth, and I have also received valuable guidance from many other faculty members. The administrative staff are incredible, and I also love the campus and its many opportunities and resources."
Supervisor: Dr. Andrea Wilson
What's the best advice you could give to someone considering applying to your graduate program?
Be open-minded, take advantage of any opportunities that come along, know that your plans might change… and invest in a really good day-planner!
Where's your favourite place on campus to work/study/research? Why?
I love my office in the Department of Sociology because it is in an area with fellow PhD students and has a great set-up in terms of space, technology, desks, filing cabinets, etc.
What is it about your grad program that enables you to thrive and be successful?
The tremendous support I have received from my supervisor and the Sociology department as a whole.
What is your "dream" career?
It's still a toss up between academia and policy, but whichever route I take, I want to be doing impactful research that can be applied in various ways to make a real difference in the world.
What idea, suggestion, or comment would you like to share with the Western graduate community?
Explore your options and never limit yourself. Also – this is a unique time in your life and should be enjoyed and celebrated – don't let the stress we sometimes feel get in the way of fun!
Have you worked as a TA or RA? If so, how did this benefit your academic career?
I have worked as both and have developed my teaching and research skills as a result. I've learned a lot about interacting with students, developing less plans, working on large scale research projects, collaboration, organization, etc.
Do you engage in volunteer activities? If yes, what activities?
Yes, my dogs are registered therapy dogs and we visit seniors' homes.
What are you most passionate about?
Dogs (especially rescues), music, my niece, soccer, social change – especially working to end gender-based violence.