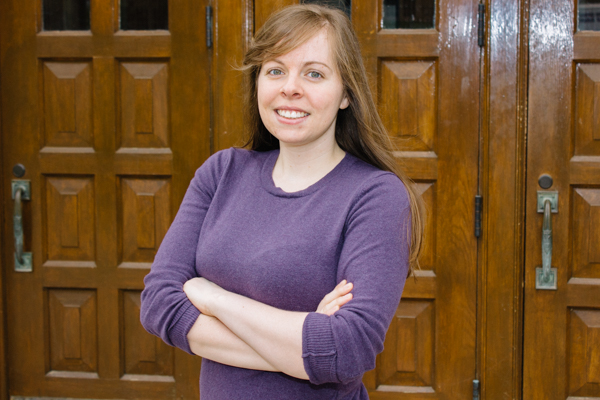 "The best parts of my graduate program are the opportunities to present my own research/proposal, as well as to learn about the work of others. I have had opportunities to attend research events within my own department, as well as more broadly through Schulich and across London. These opportunities provide an amazing atmosphere for research and learning."
Supervisor: Dr. Caroline Schild-Poulter
Where did you complete your undergraduate degree?
I completed my undergraduate degree (BSc) in Biology and Chemistry at Trent University. I also completed a Bachelor of Education (BEd) at Queen's University before beginning my graduate work at Western.
Where is "home" for you?
I call Stratford, Ontario home.
Why did you come to Western for your graduate degree?
When considering where to pursue my graduate studies, I was interested in attending a school with an excellent reputation for research in the fields of health and medicine. The Schulich School of Medicine and Dentistry has such a reputation, and I found that there were many amazing research opportunities of interest to me. In addition, the program fit with my needs and I was excited to be part of the Robarts Research Institute within the Western Community. However, when it really came down to it, the biggest thing was finding a supervisor whose work was interesting to me, and an environment where I felt I would thrive.
Describe your research in 100 words or less.
My research focuses on the response of the cell to double-stranded DNA breaks. Specifically, I focus on the inhibition of Aurora B kinase by phosphorylated Ku70. Ku70 is a key player in the NHEJ DNA double-stranded break repair pathway, and our lab has recently demonstrated that in conditions of extreme damage, Ku70 is phosphorylated and inhibits Aurora B, leading to cell cycle arrest. The repair of DNA, or arrest of cells which cannot repair DNA, is vital in maintaining normal cell cycling and preventing cancer, as the DNA repair pathways are deregulated in a many cancers.
What are you most passionate about?
I am most passionate about lifelong learning and curiosity, both for myself and fostering this in others. That's probably my inner teacher talking, but I love pushing the boundaries of science in my own work, as well as sharing my passion for science with the younger generations.
What's the best advice you could give to someone considering applying to your graduate program?
Make connections with your peers. I have found that having friendships, acquaintances, or even just a familiar face, has helped me to be able to reach out to people when I am having trouble, or need to borrow reagent or equipment. This support network will benefit you in the long run.