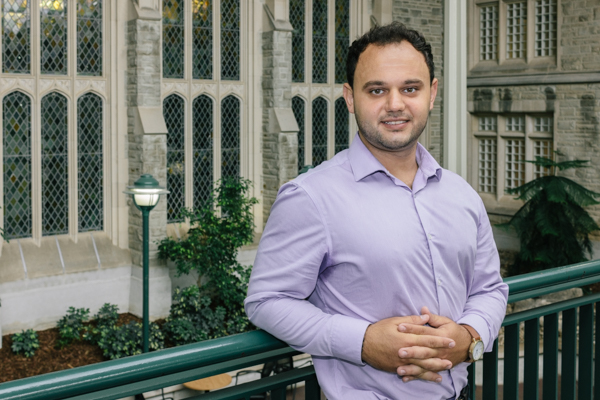 "This program has amazing faculty scientists and world-class facilities."
Supervisor:
Ian Cunningham
What is it about your grad program that enables you to thrive and be successful?
The Medical Biophysics department has wide network of scientist throughout London, with labs at Victoria Hospital, St. Joseph Hospital, University Hospital, Robarts Research Institute and other Western facilities. This wide networks has allowed me to network with many scientist from various fields and could lead to new collaboration opportunities in the future. Also, my colleagues in Medical Biophysics and the Schulich student network have provided me with support which is essential for my success.
Where's your favourite place on campus?
My favourite place to work on research is Robarts Research Institute. It has everything I need: my lab, my desk and other fellow colleagues whom I consume copious amounts of coffee with. I also enjoy studying and reading on the Grad Club patio during a warm summer day.
Have you taken any professional courses that Western makes available to grad students ?
Yes, I've attended various MyGradSkills/GradWriting courses and found the topics very relevant to graduate student interested in further developing their careers. It was useful to discuss thesis or grant writing with other grad students from different programs because they provided new insight. I also took the Advanced Teaching Program from the Teaching and Learning Center, which provided teaching practice and an opportunity to learn different teaching styles.
Do you engage in volunteer activities?
Yes, I am the Society of Graduate Students (SOGS) department representative, the Event Coordinator for Strong Bones, Strong Minds, Strong Muscles (SBSMSM), and the Co-Chair for Retiring with Strong Minds (RWSM)
Program Websites
Program Contact
Umera Ali
(
uali@uwo.ca
)
Graduate Recruitment Coordinator
Department of Medical Biophysics
Western University
Medical Sciences Rm 407
London, Ontario N6A 5C1
t.
519-661-2111 ext. 88030
f.
519-661-2123
The Department of Medical Biophysics works very closely with other university departments, research institutes, and hospitals in the City of London to offer unique graduate training opportunities in diverse fields including: cardiovascular disease, microcirculation, hemodynamics, biomechanics, and cancer. Biomedical imaging (CT, MRI, MRS, ultrasound, SPECT, PET-CT, PET-MRI, optical, photoacoustic) is a vigorous research area at the cellular, small-animal, pre-clinical, and clinical scale in our department. Our research program therefore gives students a chance to work with state-of-the-art equipment, often combining computational and experimental techniques.
The work of all our students, considered collectively, represents substantial accomplishments in a wide spectrum of physical, biological, and clinical science. Following graduation, you will find a rewarding career in the health care sector, biomedical industry, and academia; others pursue further training in professional schools such as medicine, dentistry, or business.


The strength and reputation of our PhD program is a result of our internationally renowned faculty, world-class facilities, and the students who thrive in an intellectually stimulating environment. Western is pleased to offer Own Your Future, a unique Doctoral professional development program that supports students in their academic studies and career engagement. Through Own Your Future, students will develop insight into their current and evolving skill set. To learn more, visit www.uwo.ca/ownyourfuture.
Times to Completion
12 Terms (4 years) for those with previous MSc and 15 Terms (5 years) for reclassified MSc trainees
Funding Details
All accepted candidates eligible for:
Base Annual Stipend (MSc:$23,000 PhD:$24,000)
Western Graduate Research Scholarship
Ontario Graduate Scholarship
Teaching Assistant Stipend
Research Assistant Stipend
Internal and National Scholarships
Admission Requirements
Master's degree including undergraduate physics education that includes at least three upper level (3rd or 4th year) half-courses in physics.
Students with an admission average of >85%) without a previous master's degree may be considered for direct-entry PhD program.
Application Deadline(s)
June 1 – Fall Term
November 1 – Winter Term
March 1 - Summer Term
Fields of Research
Medical Imaging
Medical Physics and Cancer
Microcirculation and Cellular Biophysics
Orthopaedic Biomechanics and Biomaterials