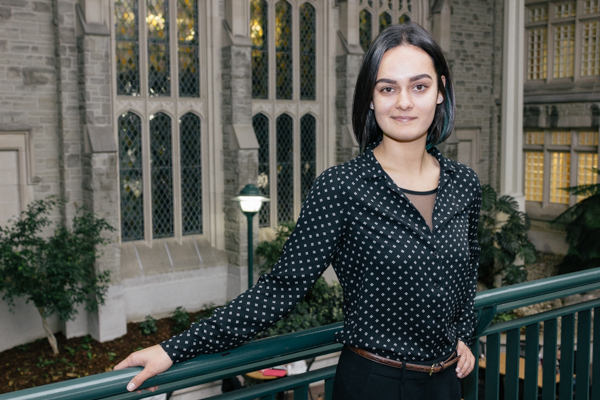 "The structure of the Chemical and Biochemical Engineering program allows me to manage my time the way I need to, so that I can maintain the many commitments I have both within and outside of Western."
Supervisor: Dominic Pjontek
Why did you come to Western for your graduate degree?
I was fortunate enough to be offered a research project at the end of my undergraduate degree by one of my professors. The project aligns with my interests, and requires skills which I had hoped to develop in graduate school, so I was happy to take on the challenge.
Where's your favourite place on campus?
My favourite place on campus to work is The Spoke. I like to have a certain level of visual and aural stimulation around when I need to focus, and on top of that The Spoke has good bagels.
What's the best advice you could give to someone considering applying to your graduate program?
For those interested in pursuing a research-based graduate degree in Chemical and Biochemical Engineering, I would recommend that you look for a project which interests you and a supervisor whose goals for the project align with your own.
Do you serve on any Department, Faculty, or University committees?
I am the current VP External of the Engineering Graduate Society.
Have you worked as a TA or RA?
I am currently working as a TA for the 4th year chemical plant design course. Being a TA for this course requires me to have a good understanding of chemical plant design, and to be knowledgeable about a variety of industrial processes; this generally improves my chemical engineering knowledge and makes me a more competent graduate student.