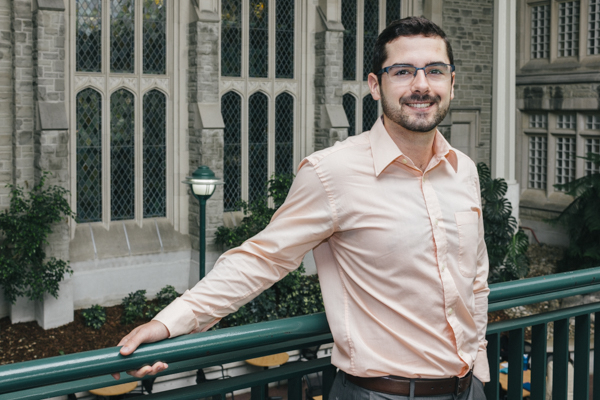 "I am from a software engineering background, but I am constantly learning new things outside of my field and this keeps my work interesting for me."
Why did you come to Western for your graduate degree?
During my second year of undergraduate studies, I was the recipient of an NSERC Undergraduate Student Research Award. This award permitted me to complete a research assistant placement over the summer, gave me research experience, and provided an opportunity to work in a new area. My experience convinced me to pursue graduate studies and led to the discovery of my current graduate project.
Where's your favourite place on campus?
Most of my time on campus is spent in a lab at Robarts Research Institute near University Hospital. This is a convenient spot for me as it is close to other students and researchers in the field.
What is it about your grad program that enables you to thrive and be successful?
The interdisciplinary nature of the program. I have had the opportunity to do my research alongside faculty and students from the departments of medical biophysics, biomedical engineering, and kinesiology as well as scientists at Robarts Research Institute and Lawson Health Institute.
What's the best advice you could give to someone considering applying to your graduate program?
The best advice I have is to work with your supervisors and any help available. Sometimes I find that I work for a long time on a small and very specific issue with my research, and the solution is often found after a discussion with a supervisor or colleague who may have had a similar problem in the past. Even if a solution is not available, it is good to hear different opinions or approaches to problems.