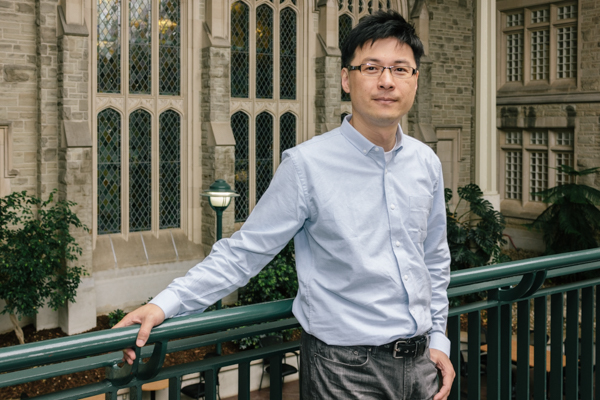 "I was an exchange student at Western University in 2006 and I really enjoyed the environment at Western and the city of London."
Why did you come to Western for your graduate degree?
After my graduate program finished, I worked in the semiconductor industry for several years, but I still missed Western, so I applied for the PhD program in Geophysics.
Where is "home" for you?
I am originally from Taiwan, but my family lives in London right now. Where my family is, that is my home.
Describe your research.
My research attempts to figure out volatile elements in the deep earth by using high-pressure and high-temperature(HPHT) methods. Compared with the amounts in other planets, it is believed that most light volatile elements are stored in the earth's interior. However, budget and storage reservoirs are still unclear. By using HPHT experiments with diamond anvil cell and laser heating systems, I can reach the pressure and temperature to lower mantle or outer core conditions to try and understand the geological cycles and reservoirs within the earth.
What is it about your grad program that enables you to thrive and be successful?
HPHT research is not only useful in geophysics, but also highly relative to other research fields, such as, physics, chemistry, material sciences. Through my grad program, I have many chances to collaborate with people in different research fields, which has allowed me to thrive and be successful.
Have you worked as a TA or RA?
Yes, I worked as a TA and RA. As an international student, TA experiences are useful in order to learn how to communicate with students from different countries and how to present in Canadian classes. RA experiences provide many opportunities to work with people in different fields.