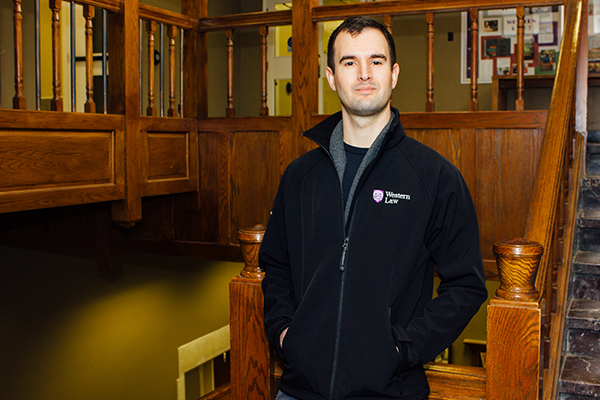 Supervisor: Mohamed Khimji
Where did you complete your undergraduate degree?
Law degree from Queen's University and B.A. from the University of Victoria
Why did you come to Western for your graduate degree?
Western Law has a strong background in corporate law, which is my area of interest.
Where is "home" for you?
Victoria, British Columbia
Describe your research in 100 words or less.
My thesis examines the legal standards that directors of corporations are held to, particularly compared to American and English law.
What is it about your grad program that enables you to thrive and be successful?
Access to the expertise and general experience of my colleagues, professors, and supervisor.
What is your "dream" career?
In-house counsel at a larger corporation in Toronto.
What's the best advice you could give to someone considering applying to your graduate program?
Be sure to identify every possible source of funding, and discuss how to apply for it with members of the law faculty. Law has many unique funding sources outside of typical graduate funding.
What idea, suggestion, or comment would you like to share with the Western graduate community?
The law building has a particularly good coffee shop.
Do you serve on any Department, Faculty, or University committees? If yes, which ones?
I am on the Graduate Policy Committee.
What one thing would you like people to know about you?
I am friendlier than I look.
How do you de-stress?
Beer and Netflix.