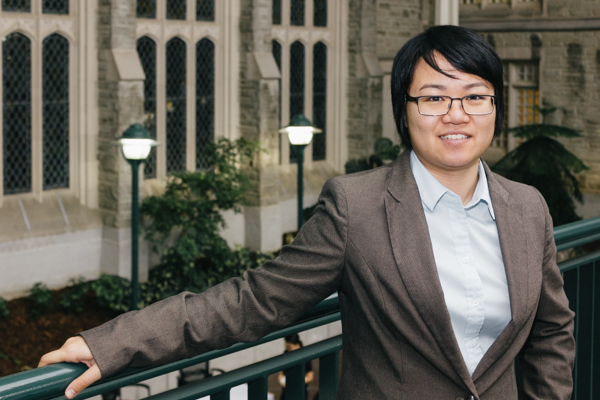 "I believe success in graduate studies really depends on the supervisor you get to work with, and I have been blessed to work with a supervisor who is both supportive and encouraging."
Supervisor: Valerie Oosterveld
Why did you come to Western for your graduate degree?
I chose Western for the opportunity to work with world-renowned international legal scholars, specifically Dr. Valerie Oosterveld, who is an expert in international criminal law and gender issues.
Do you belong to any university or community groups?
I am the President of the Graduate Law Students Association (GLSA) at Western Law. As President of the GLSA, I am primarily responsible for looking after graduate student interests. I also have voting rights on the Faculty Council and the Graduate Program Committee.
Describe your research.
Using a doctrinal approach, my thesis undertakes a comparative analysis of how the United Kingdom and Germany address the international legal principle of non-refoulement in their legislation concerning asylum seekers. I focus upon the United Kingdom and Germany because they are two of the largest asylum-receiving countries in the European Union during the time period under consideration. As such, their practices with respect to non-refoulement affect large numbers of asylum applicants and also likely influence how other countries interpret the non-refoulement obligation.
What is your "dream" career?
My dream career would be to work as a legal advisor at the United Nations High Commissioner for Refugees (UNHCR), Division of International Protection.
What's the best advice you could give to someone considering applying to your graduate program?
The best advice for someone applying to Western Law's graduate programs is to first do some research to see whether there is a supervisor at Western who is able to supervise their research. I would also advise prospective students to contact current graduate students who may be able to speak to the program and the general atmosphere of being a graduate student at Western.