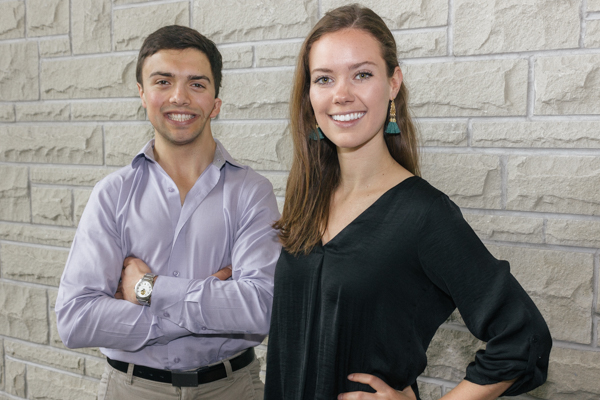 "Ivey offers an unparalleled learning opportunity. The chance to continue my studies at a world class business institution was an opportunity I could not pass up."
- Glendon
What is it about your grad program that enables you to thrive and be successful?
Without a doubt, the supportive Ivey community. Not only are professors and all staff members fully committed and dedicated to the success of all students, but the Ivey alumni network, and the community of current Ivey students, is one of the strongest I have ever been in.
- Mariana
Where's your favourite place on campus?
The Ivey courtyard is my favourite. The light and fresh air really gets the creative juices flowing.
- Glendon
Do you belong to any university or community groups?
I am the president of CEMS (Community of European Management Schools) community Club Canada. Our main goal as a club is to foster the growth of the CEMS Community in Canada through a series of social, corporate and philanthropic events.
- Mariana
What comment would you like to share with the Western graduate community?
Enjoy your time as a graduate student and approach every day with an open mind. It is important to build and strengthen your professional and social networks and I believe that Ivey provides a truly great environment to accomplish this task.
- Glendon
What is your "dream" career?
I would like to work for a global company where I can continue traveling and learning about the world. Working in a role that allows me to become involved with corporate social responsibility activities, and helping the business world become more sustainable, would be a dream come true.
- Mariana