Test
Competition Details
Videos
FAQs For Student Participants
Helpful Links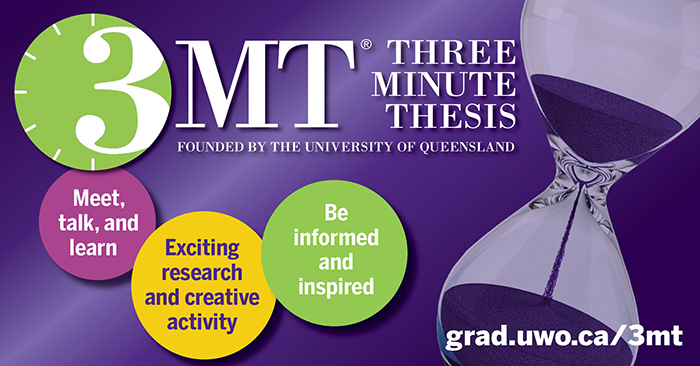 Western's 2019 3MT Final:  Thursday, March 21 at 7:00 p.m.
Wolf Performance Hall | London Public Library (Central branch)
251 Dundas Street in downtown London 
The top 20 students from our six heats will present in the final competition on Thursday, March 21, 2019 in the Wolf Performance Hall | London Public Library (Central branch) at 7:00 p.m.  A reception for all 3MT participants and guests will follow where we announce our top three winners.
The first-place winner from Western's final will attend 3MT Ontario 2019 hosted at McMaster University.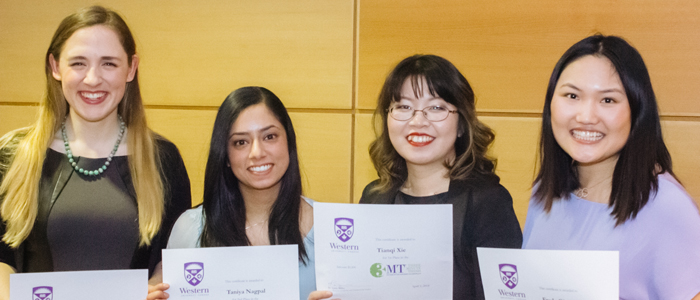 2018 Winners: (from left) Bethany Hynes (third place - tie), Taniya Nagpal (second place), Tianqi Xie (first place), and Freda Qi (third place - tie)
Watch the 2018 3MT Final on RogersTV

HERE
What is 3MT?
3MT (Three Minute Thesis) is a research communication competition where graduate students have 3 minutes or less to present their research and its impact to a panel of non-specialist judges and peers. The exercise develops academic, presentation, and research communication skills and supports the development of research students' capacity to effectively explain their research in language appropriate to an intelligent but non-specialist audience.
The competition was developed by The University of Queensland (UQ), Australia. The first 3MT was held at UQ in 2008 with 160 graduate students competing. Enthusiasm for the 3MT concept grew and its adoption in numerous universities led to the development of an international competition in 2010. Western University was one of the first Canadian universities to host a 3MT competition in April, 2012.
This fun and challenging academic competition is an excellent opportunity for graduate students to improve their communication skills. Whether it be networking, a job application, research opportunity or scholarship application, the ability to effectively communicate complex research and its impact using open language is a valuable skill set.
Competition Details
Videos
FAQs For Student Participants
Helpful Links