Communications
The School of Graduate and Postdoctoral Studies (SGPS) Communications unit exists to lead, advise, consult, and manage a broad range of communication initiatives to support:
Graduate and postdoctoral excellence.
Expanded and enhanced graduate education programs.
Recruitment of the best and brightest domestic and international graduate students.
Increased awareness of Western's graduate programs and postdoctoral opportunities.
The unit specifically supports graduate programs in several areas that include (but are not limited to):
Consulting with Western's 11 Faculties in the development of an overall graduate recruitment strategy and corresponding communication plan for each program.
Designing and maintaining a variety of diverse media channels (The WIRE, SGPS home page, videos, print material, etc.) for the purpose of delivering timely and relevant information regarding deadlines, events, and other pieces of important information for Western's graduate students and postdoctoral scholars.
Providing internal and external communication leadership and support to SGPS events including orientation programs, workshops, wellness events, and the annual Three Minute Thesis (3MT) Competition.
Feel free to contact us to support your program's initiatives.
The WIRE
To submit your post to The WIRE, please email your submission (along with an accompanying photo or graphic) to Mark Wolfe.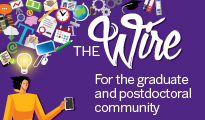 Your one-stop online destination for upcoming deadlines, current events, innovative training, and more to help you navigate the many exciting opportunities available to you as a Western graduate student, postdoctoral scholar, faculty member, or staff member.