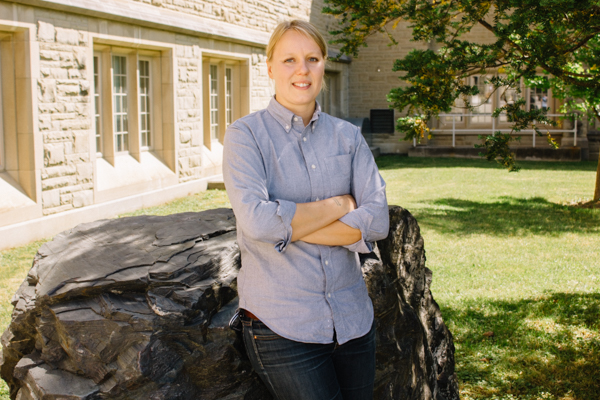 "Western is one of only a few universities in Canada that has a Geology graduate program, and a collaborative specialization Planetary Science and Exploration. As an undergraduate research assistant, I met a couple graduate students and my present advisor at a conference through my advisor at the time who is adjunct at Western. I was struck by the quality and breadth of research in the department of Earth Sciences, and the support for graduate student research, collaboration, and professional development."
Supervisors: Dr. Neil Banerjee and Dr. Gordon Southam
Where is "home" for you?
Home for me is now split somewhere between Winnipeg and London. Most of my family is in Winnipeg, however I've been in London for over four years now, so it also has aspects of home for me.
Describe your research.
My research is focused on a group of 2.7-billion-year-old rocks from a gold mine in Northern Ontario. I am using geochemistry to better understand the conditions present at the time that they were deposited. Basically I am fingerprinting the chemistry of the hydrothermal fluids that created them, as well as the gold that was deposited. This is important for understanding conditions on early earth with implications for early life, which is what initially drew me to the topic. However presently the bulk of my research is focused on improving efficiency in mineral exploration and processing.
What is it about your grad program that enables you to thrive and be successful?
The community and culture within our department, in addition to the opportunities for experiential learning, collaboration and networking. The department of Earth Science is incredibly diverse in terms of research interests, yet collaboration and mentoring with faculty members and even graduate students is commonplace, and encouraged. During my time here I have had the opportunity to participate in multiple experiential learning opportunities in the role of student, teaching assistant, and field trip organizer/leader. As well, I have been able to guide the direction of my own research, and received support to present my work at international conferences.
What's the best advice you could give to someone considering applying to your graduate program?
Don't be afraid to ask questions of your potential advisor, their students, and other students in the department. It's important to find a project you're passionate about, an advisor you can work with, and an environment you will be supported and productive in.
How do you de-stress?
That's a split between cooking, a cold beer with friends, and being active/exercise, which at this point mostly involves cycling and rock climbing.
What idea, suggestion, or comment would you like to share with the Western graduate community?
I would like stress the importance of the idea that we are indeed one community of researchers, not just researchers from separate departments. So spaces (like the Grad Club) and events that bring us together are integral. I have found that the opportunity to discuss your research beyond your lab group or department to be invaluable and can lead to new perspectives and collaborations.