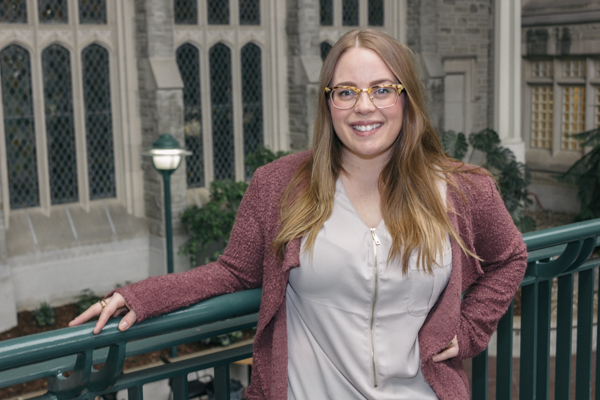 "The faculty at Western are very encouraging. I have a great relationship with my professors, and this had led to interesting opportunities through the Media Studies program"
Supervisor: Jacquelyn Burkell
Why did you come to Western for your graduate degree?
Western has a reputation for having a strong research agenda. That, in combination with the expertise of faculty in the Media Studies program and the wide ranges of interests that they cover, made Western a very compelling option.
Where is "home" for you?
Cape Breton, Nova Scotia.
Describe your research.
Current research shows that women experience online abuse at higher rates than men. For my doctoral research I ask the question, how do Canadian women and girls respond to cybermisogyny? A foundational principle behind this research includes recognizing that the gap between online life and offline life is closing, thus, we need to understand and protect women's rights online as we do offline.
Where's your favourite place on campus?
I prefer quiet, smaller spaces to study, so I applied for a carol in the Weldon library – it is spacious, close to resources I require, and best of all has a large window with a great view. If I'm feeling more social I will work in the Grad Club.
What is it about your grad program that enables you to thrive and be successful?
I have an amazing cohort, and that students in other years have also been an incredible, and accessible, resource. A strong sense of community goes a long while working towards a PhD.
What's your favourite book?
Cat's Cradle by Kurt Vonnegut
What idea would you like to share with the Western graduate community?
I encourage you to talk to someone outside of your field about your research. More interdisciplinary conversations are something the 21st century needs.