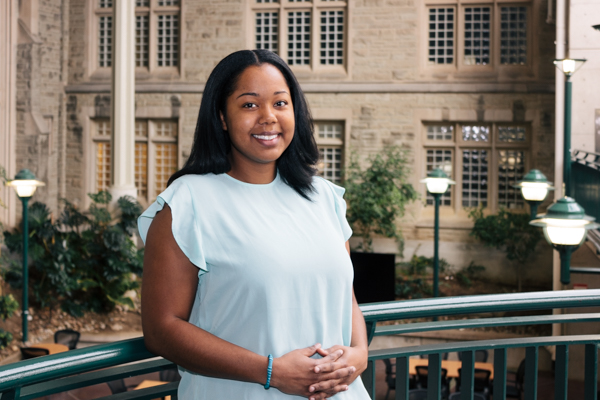 "All the members within the program, whether they are clinicians or administration, possess an 'open door' policy. Such an approach promotes accessibility, open communication, and builds closer work relationships which has helped facilitate my learning. I'm constantly being challenged and engaged by not only my peers, but also by my mentors and instructors."
What's the best advice you could give to someone considering applying to your graduate program?
Shadow and get involved within the community and academia. Shadowing is important in any career you hope to pursue as it allows you to gain a better understanding of what the job entails. I also believe that the PA admissions committee looks for well-rounded, eager individuals who will get involved with student and departmental groups. They're always looking for feedback and ways to make the program even better.
Why did you come to Western for your graduate degree?
At the time, Western had the only NAACLS-accredited Pathologists' Assistant (PA) program in Canada. Upon matriculation, I'd be working towards a degree that would be recognized across North America and other countries across the world. 
What one thing would you like people to know about you?
I'm an open book. You can talk to me about every and anything without fear of judgment. I'm outgoing, open-minded, and very down to Earth.
Describe your research in 100 words or less.
Infantile hemangiomas are the most common vascular tumours of infancy, occurring predominantly in the head and neck region.  Although benign, some may impinge on vital organs and cause life-threatening complications (i.e. obstruct vision and airways as well as produce arterial hemorrhage).  Hemangiomas exhibit a unique lifecycle characterized early by proliferation of vascular endothelial cells followed by maturation and eventual regression into adipose tissue. Previous studies have shown that hemangiomas are derived from stem cells, however, the mechanisms regulating hemangioma stem cell phenotype are unknown. My research is aimed at elucidating the genetic pathways which regulate infantile hemangioma stem cell differentiation.
Have you worked as a TA?
Yes. I've been a TA for undergraduate courses in Human Anatomy and Physiology at the University of Windsor. It was here where I realized my love for anatomy and teaching, and was introduced to the PA profession. I had no idea what a PA was until my Anatomy professor fervently encouraged me to apply to Western University.
Where's your favourite place on campus to work?
There is a designated Pathologists' Assistant room equipped with computers, blankets, ample study resources, a microwave, a kettle and a mini fridge! Need I say more? It was like having exclusive access to my own little apartment on campus.
What are you most passionate about?
Putting forth the best version of me. With every endeavour I take on, you can trust that I'll work my hardest to achieve the best result. Mediocrity doesn't sit well with me.