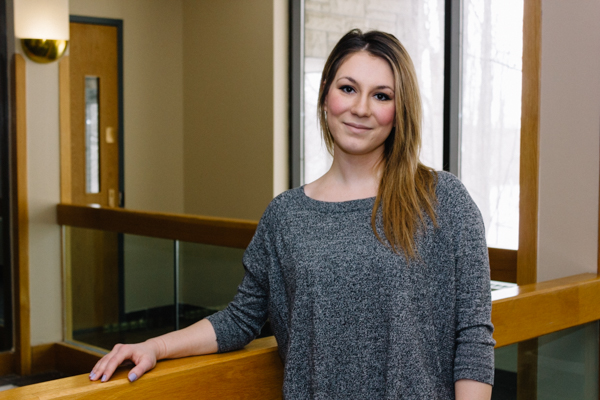 "Faculty members are willing to offer a great degree of support and guidance, making the mentorship within the Pathology program outstanding. As students, we also have a lot of opportunities for collaborative work and professional development."
Supervisor: Dr. Sunil Parapuram
Why did you come to Western for your graduate degree?
I had an amazing "Western" experience during my undergraduate degree program, and I couldn't turn down the opportunity to spend another two years here.
What's the best advice you could give to someone considering applying to your graduate program?
Take the time to meet with a variety of supervisors and learn about the different projects that are available. And keep an open mind – there's a lot of very exciting work going on here!
Describe your research in 100 words or less.
My research focuses on glaucoma and fibrotic processes that occur within the eye, contributing to disease progression. Specifically, I am investigating dysfunction of the trabecular meshwork tissue and the signaling pathways that contribute to excess extracellular matrix deposition. Recent work has implicated new proteins as regulators of fibrosis so one major aim of my work is to determine what role such a protein would play in fibrosis of the trabecular meshwork, with the hope of identifying a suitable therapeutic target.
Where's your favourite place on campus to work?
To get some light work done I prefer going to The Spoke or the Grad Club – the environment is nice and lively, and you're bound to run into a familiar face. But when dealing with serious work and hard deadlines, nothing beats the silence of the fifth floor in Weldon library.
What's your favourite book?
Bloodletting and Miraculous Cures
by Vincent Lam. It's a really good read – I highly recommend it.
Do you engage in volunteer activities?
I volunteer with the Alzheimer's Society of Middlesex-London. They are a wonderful organization that offer recreational programs for individuals affected by Alzheimer's and dementia, as well as support programs for caregivers and their families. Currently, I am involved with some of the recreational programs as well as some fundraising initiatives, including organization of the annual
Walk for Memories
.
What are you most passionate about?
Lifelong learning.