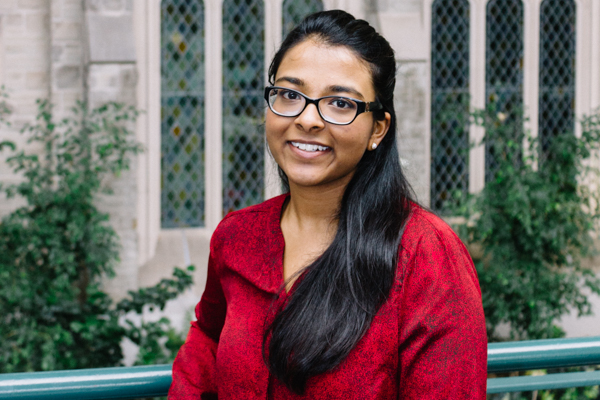 "The Physiology and Pharmacology program creates an environment where there is collaboration between researchers. This is important because as researchers we thrive to enhance our knowledge in our respective fields and other areas of interest. Through weekly seminars and research conferences (such as Phys/Pharm Research Day and London Health Research Day), we are able to discuss new techniques and approaches for further application into our own research."
Why did you come to Western for your graduate degree?
I decided to stay at Western for my graduate degree because I had developed strong ties within the department while completing my 4th year thesis. I was surrounded by a supportive group of people that were equally as passionate about research.
Describe your research.
The incidence of melanoma has been gradually increasing with widespread metastasis being the main cause of death. Current treatment options have not been effective due to tumour resistance therefore, there is an acute need to identify other potential therapeutic targets. Feline sarcoma-related (FER) kinase is a non-receptor tyrosine kinases that is upregulated in a variety of tumours. FER kinase regulates proliferation, susceptibility to anoikis and migration in prostate, breast and lung carcinoma cells, respectively. The biological functions of FER in melanoma have not been explored and is therefore the aim of my research.
What's the best advice you could give to someone considering applying to your graduate program?
Apart from finding a field of research to your interest, ensure that you are happy with the lab/research community found within your graduate program as these are the people with whom you will be spending the most time with learning, collaborating, and those that will support you through your research endeavors.
Do you belong to any university or community groups?
I was a peer mentor for the Leadership and Mentorship Program (LAMP) and a Discovery Café leader, both of which are part of Western's Student Success Centre. I am also an executive member of Lymphoma Canada-Western University.
What are you most passionate about?
I am most passionate about science and music. I believe they have the potential to solve most of our societal problems.
What one thing would you like people to know about you?
I love minions.