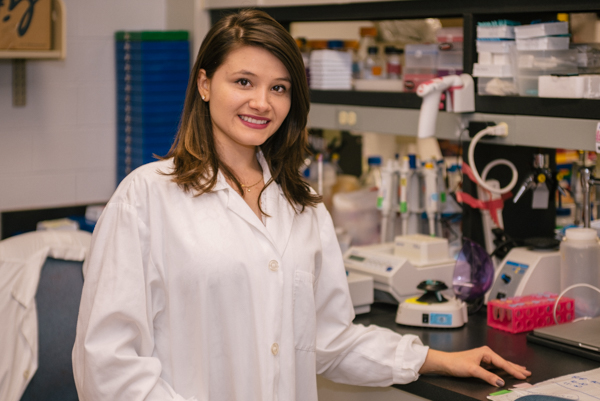 "It has been a great honour to be part of Western's Physiology and Pharmacology program, and the Musculoskeletal Health Research collaborative specialization. It has proven to be an innovative and enlightening experience working alongside the talented professors and students."
Supervisor: Frank Beier
Where did you complete your undergraduate degree?
Brazil (city: Bauru, Sao Paulo, Universidade do Sagrado Coracao – USC)
Why did you come to Western for your graduate degree?
I wanted to study disease, and I became interested in osteoarthritis in my undergraduate program. When I did further research, I discovered that in Brazil we don't have much understanding about osteoarthritis and there is no funding available. At Western, there is a lot of opportunity to gain experience and further my career.
Where's your favourite place on campus to work/study/research?
My favourite place to work is in Frank Beier's Lab. The environment is essential for my studies, and I feel really focused in the lab. It is the place where I've been spending most of my time working on my research project. It's like home to me.
What is it about your grad program that enables you to thrive and be successful?
I'm in the Department of Physiology and Pharmacology that is known for wide research activity, designed to train leaders in research to amplify the knowledge of different diseases through analysis, innovation, and insight.
Also, I'm enrolled in the The Collaborative Specialization in Musculoskeletal Health Research, which is unique in Canada. The specialization includes multiple Faculties at Western University with participation from over 60 faculty members. All the trainers engage in musculoskeletal research seminars, annual research retreats, and courses.
By having access to expertise across multiple disciplines, the Collaborative Specialization in Musculoskeletal Health Research has training opportunities to translate discoveries that will help to better understand musculoskeletal diseases and improve health worldwide.
What is your "dream" career?
To become an investigator/scientist in a disease field where I can help the community with a greater understanding of how to improve a treatment with drugs and therapy.
What's the best advice you could give to someone considering applying to your graduate program?
Be a critical and creative thinker, be personally effective, a good communicator, and listen to feedback from your peers, supervisors, and junior researchers. You also need to demonstrate self-understanding and a willingness to build your personal skills. I think the most important thing in graduate studies is to develop and maintain cooperative networks and working relationships with your supervisors, colleagues, and peers within the institution and the wider research community.
Where is "home" for you?
Bauru (my hometown) Sao Paulo (State) in Brazil
What are you most passionate about?
One of my greatest passions is helping others. I like helping people find solutions that meet their specific needs.
What one thing would you like people to know about you?
Humility is the most important quality a person can have.