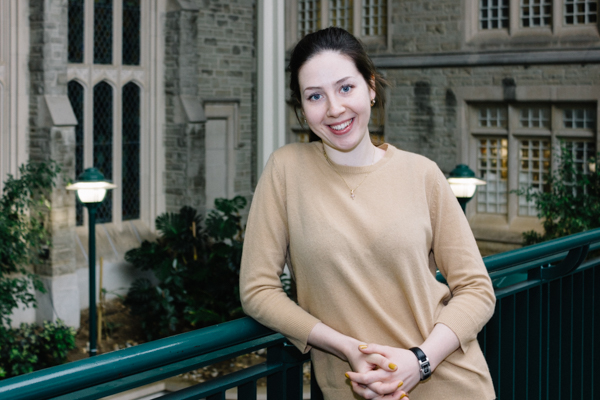 "I could talk about my program endlessly! First and foremost, the people in this department are very supportive and open to providing help. As an international student, I had certain fears when applying to the program, but the kindness and understanding I have encountered from the first moment made most of them vanish. Being in such friendly environment and surrounded by people who care about you and your academic success is a key factor."
Where did you complete your undergraduate degree?
I completed my medical degree in Russia.
Describe your research in 100 words or less.
The research group I am a part of is working on Alzheimer's disease, a progressive, incurable brain disorder leading to a severe mental health decline. We investigate an interaction of this highly prevalent among older population disease with other common disorders such as stroke, hypertension, obesity, diabetes and metabolic syndrome. Particularly, my role is to study how abnormalities in an organism's metabolism due to diet-induced obesity contribute to Alzheimer's disease pathology and affect cognitive function, determine some of the underlying mechanisms, and define possible targets and treatment agents for an early therapeutic intervention.
Where's your favourite place on campus to work?
I can name this place easily as this is my office and my laboratory, where the entire work is done. However, I always come outside when it gets warm. Our campus is incredibly beautiful in every season, but especially during the spring and summer. I like to sit on a bench among the trees right behind our medical sciences building, get some sun and fresh air. Quiet and peaceful in summer, and the best place to read and think.
What's the best advice you could give to someone considering applying to your graduate program?
I can only tell that do not be afraid of not knowing something, not having an experience of working in the lab or coming from a different background. If you know what your research interests are and have a strong desire to work in this field, find a person who shares these interests and wants it even more, your supervisor, and get started. Be active, motivated and passionate about your work and the department including your students colleagues will help you to succeed!
What are you most passionate about?
Discoveries! Would they be in research or in life like new facts, new hobby or even new people.
What idea, suggestion, or comment would you like to share with the Western graduate community?
Use these precious years wisely. Use every moment to get as much as possible out of it: learn from the best, study using all available resources, make professional connections, use any opportunity to present and talk about your research on any level. And do not forget to be active outside your working environment: do sports, build friendships, attend social events and simply enjoy your graduate life!