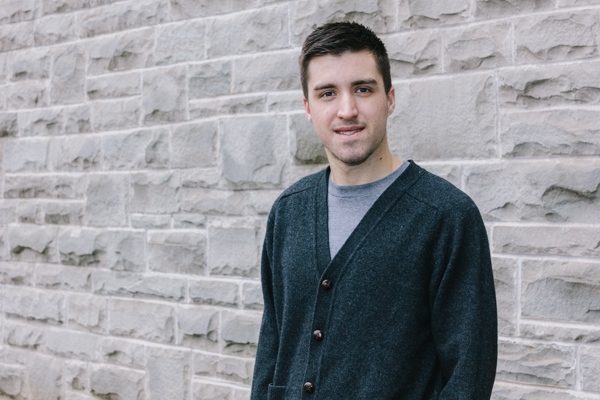 "Talk to as many professors as possible. Just because a school or program is highly ranked, it does not mean that all of the professors are great. A good professor will help guide you through your research, and work with you to ensure your success."
Supervisor: Dr. Kamran Siddiqui
Why did you come to Western for your graduate degree?
I came to Western because of Professor Siddiqui. I met him at a conference the summer before my final year at Queen's. He was very passionate about his work in renewable technology and was more focused on practical research than other professors. Our ideas about engineering and the environment aligned perfectly.
Describe your research in 100 words or less.
I am researching ways to manipulate two-phase flow to increase mass and heat transfer rates in vertical tubular absorbers. I use technology such as high speed cameras and thermal cameras to characterize flow regimes and measure changes in heat transfer rates. The results of my research will be used to develop an absorber unit for a small-scale solar heat absorption refrigeration system.
What is it about your grad program that enables you to thrive and be successful?
I like the open schedule of graduate school. Sometimes I like working late into the night or on weekends. Sometimes I like to get in a run during the afternoon if the weather is nice. As long as I get my work done, it doesn't matter when I work.
Graduate school has also allowed me to pursue my own interests outside of my research. During my Master's degree, I invented and patented a coffee brewing process. I am working with Propel Entrepreneurship to commercialize my invention. There is no job I could have taken after my undergraduate degree that would allow me to pursue a project like this.
What is your "dream" career?
Renewable energy technology developer
Have you worked as a TA or RA?
Being a TA helped with my public speaking ability. It also allowed me to practice teaching technical concepts and learn how to be clear and concise when explaining my own research.
Do you engage in volunteer activities?
I volunteer for events and organize initiatives for
Engineers Without Borders
(EWB). This past fall, I organized the
Run to End Poverty
charity race which raised over $10,000 for the Western EWB chapter.