3MT - Three Minute Thesis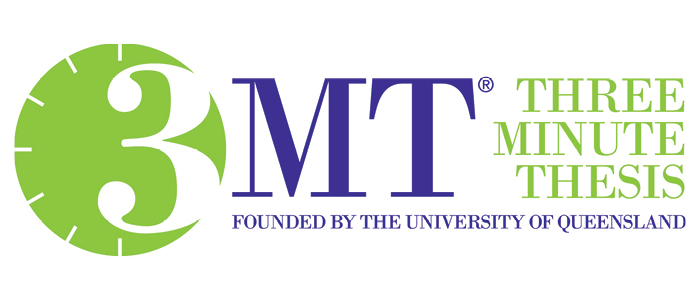 3MT (Three Minute Thesis) is a research communication competition where graduate students have 3 minutes or less to present their research and its impact to a panel of non-specialist judges and peers. The exercise develops academic, presentation, and research communication skills and supports the development of research students' capacity to effectively explain their research in language appropriate to an intelligent but non-specialist audience.
The competition was developed by The University of Queensland (UQ), Australia. The first 3MT was held at UQ in 2008 with 160 graduate students competing. Enthusiasm for the 3MT concept grew and its adoption in numerous universities led to the development of an international competition in 2010. Western University was one of the first Canadian universities to host a 3MT competition in April, 2012.
This fun and challenging academic competition is an excellent opportunitiy for graduate students to improve their communication skills. Whether it be networking, a job application, research opportunity or scholarship application, the ability to effectively communicate complex research and its impact using open language is a valuable skill set.
2014 Winners
Congratulations to all participants!
1st Place: Joseph Donohue - Chemical and Biochemical Engineering
2nd Place: Joshua Lee - Health and Rehabilitation Sciences
3rd Place: Sean Miletic - Biology
People's Choice Award: Oluwakemi Ola - Computer Science
2015 Schedule
Preliminary Heats
Preliminary heats will be hosted by each Faculty. Please register under your corresponding Faculty. The deadline to register is Wednesday, March 25, 2015 when your slide is due.
*PLEASE NOTE: Registration links below will be activated for each faculty soon.
Faculty
Date
Registration
Faculty Contact

Arts and Humanities, Education, Music,
Media and Information Studies

Month/Day
Time
Location

A&H - Register
Edu - Register
Music - Register
FIMS - Register
A&H - Mark McDayter
Edu - TBA
Music - TBA
FIMS - TBA

Engineering

Tuesday, March 3
9:30 a.m. - 12:30 p.m.
UCC Room #65

Register

Health Sciences

Wednesday, March 25
3:30 p.m.
TBA

Register

Ivey Business School

Month/Day
Time
Location

Register

Law

Month/Day
Time
Location

Register

TBA

Schulich School of Medicine & Dentistry

Thursday, March 19
11:00 a.m. - 2:00 p.m.
CSB Room #2719

Register

Science

Month/Day
Time
Location

Register

TBA

Social Science

Friday, February 27
11:00 a.m. - 1:00 p.m.
SSC Room #9420

Register
Western 3MT Finals and Reception Dinner
The top 20 students from all preliminary heats will present in the finals on Thursday, April 9, 2015 from 3:00 p.m. - 4:30 p.m. in the Davenport Theatre, Talbot College. A dinner reception for all 3MT participants will follow in the atrium of the International and Graduate Affairs Building at 4:30 p.m.
Provincial 3MT Finals
The winner from Western's finals is invited to attend the 3MT Ontario 2015 final on Thursday, April 23, 2015 here at Western at the Ivey Business School. This is a great opportunity to showcase your research to a wide range of scholars from across the province. Approximately 20 Ontario universities will be participating this year, and all travel and accomodations will be coordinated and supplied by SGPS.
The Ontario 3MT Finals began as a joint event organized by Queen's University, McMaster University and Western University. York University will host the provincial finals in 2016.
Eligibility
Current Western graduate students may participate in 3MT:
Presentations must be based on research that is directly related to the student's graduate program thesis or major research paper
Presenters must register for the event with the School of Graduate and Postdoctoral Studies, who will confirm your entry
Presenters must be available to present, in person, on the day of their heat. To advance in the competition, heat winners must also be available to present, in person, at the 3MT final
Rules
A single static PowerPoint slide is permitted (no slide transitions, animations or 'movement' of any description)
No additional electronic media (e.g. sound and video files) are permitted
No additional props (e.g. costumes, musical instruments, laboratory equipment) are permitted
No laser pointers are permitted
Presentations are to be spoken word (e.g. no poems, raps or songs)
Presentations are limited to 3 minutes maximum and competitors exceeding 3 minutes are disqualified
The decision of the adjudicating panel is final
Judging Criteria
Presentations will be judged on the basis of three criteria:
Communication style: Was the thesis topic and significance communicated in language appropriate to an intelligent but non-specialist audience?

Did the title of the talk give a clear picture of the topic and its importance?
Were all technical or specialist words clearly explained for a non-specialist audience?
Was the communication style clear enough so that any intelligent person could now sum up the topic and its significance?

Comprehension: did the presentation help the audience to understand the research?

Did the speaker deliver their presentation at an appropriate pace?
Was there a storyline that helped the audience understand the research problem, its importance and how the research would or did address that problem?
Did the PowerPoint slide help the audience better understand the topic and its significance?

Engagement: did the oration make the audience want to know more?

Did the speaker engage the audience with eye contact?
Did the speaker engage interest in the problem being researched?
Would you now like to join this research for further discussion about their work?
Prizes
Prizes will be distributed at the 3MT Reception Dinner in the atrium of the International and Graduate Affairs Building on Thursday, April 9, 2015 at 5:00 p.m. All participants are encouraged to attend the finals and reception dinner to celebrate the achievements of all presenters. Cash prizes are given to assist winners in attending conferences in order to promote their research and further their academic network.
1st place: $1000
2nd place: $500
3rd place: $250
Reception Dinner Door Prizes: Various Western Merchandise
Preparation Workshops
The Teaching Support Centre will offer workshops to help students prepare for the competition. Participants will learn to communicate their research to captivate a non-specialist audience, and will have an opportunity to practice their three-minute speeches and receive feedback from peers. After the session, participants will have the option of being videotaped doing their 3MT.
Dates, times, and locations TBA
FAQ
All rooms will have a podium for use, or you may stand freely to present. Microphones will not be used for preliminary heats. For the finals, you have the option of using a lapel microphone or podium microphone.
Yes, in fact they are encouraged! Even if your presentation is entirely memorized, it is a good idea to have backup notes to place on the podium in case you lose your place.
Unforunately all scoring is confidential and not provided to presenters. Many judges make comments on their judging sheets however, and you can email your faculty contact to receive this feedback.
Only the 3MT finals will be videotaped; preliminary heats are not. The 3 winners' videos will be posted on the Western website for the university community to view. All other finalists videos will be provided to presenters so they can see their presentation and/or use for personal reasons.
Yes, in the confirmation email you receive when registering, you can log back into the 3MT system and simply upload a new slide over your first submission. Please note that changes to slides must be done prior to the slide deadline set by your individual faculty.
Yes, the Western Research Forum is an annual event hosted by SOGS that traditionally takes places a few weeks prior to 3MT, with several opportunities to discuss your research in a public, non-specialist setting.
Resources
Questions regarding this event can be directed to Mark Wolfe.