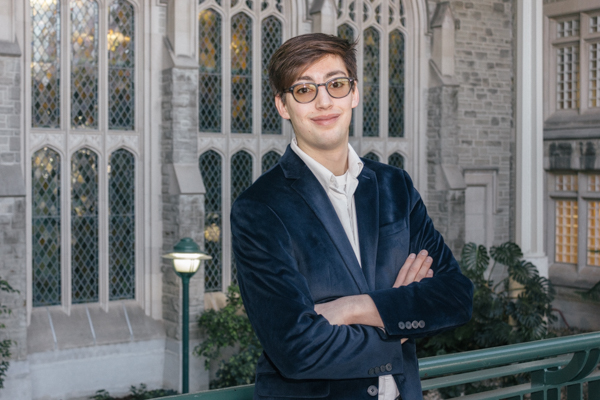 "The Planetary Science collaborative specialization through CPSX is large enough to be home to leading researchers in the fields of impact cratering, meteoritics, cosmochemistry, and planetary surface image interpretation, while still being small enough to give each grad student opportunities to excel in areas beyond their own research."
Supervisor: Gordon Osinski
Why did you come to Western for your graduate degree?
Western is one of just a few universities in the US and Canada that offer a graduate program in geology and planetary science. Coming to Western also presented me with an opportunity to live and study outside the United States without traveling too far from home.
Where is "home" for you?
Home for me is the small town of Harpers Ferry, West Virginia. About 45 minutes east of Washington DC.
Describe your research.
I study large-scale impact craters on the surface of the moon. I use high resolution satellite images and topography data to analyze and map material that was ejected from the centre of these impacts during their formation. By mapping the extent of different types of debris from these impacts, including solid rock fragments and molten rock flows, you can get a better understanding of exactly how these impact craters form.
Do you belong to any university or community groups?
I am currently the President of the CPSX Graduate Student Council. As CPSX is an interdisciplinary graduate program, the graduate council is composed of student representatives from each discipline in the program. We meet to discuss the program and any needs of the students in the planetary science program.
What's the best advice you could give to someone considering applying to your graduate program?
Space exploration is not limited to just aerospace engineers and astronauts. Geologists, Geographers, Physicists, Chemists, Biologists, and more can all play a role in exploring our Solar System. If you have a strong grounding in any scientific, social science, medical, or even policy background and an interest in space, there is a way to get involved.