3MT - Three Minute Thesis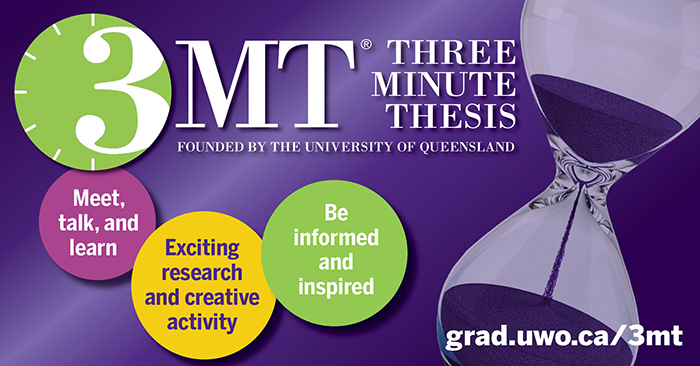 Western's 2018 3MT Final:  Thursday, April 5 at 7:00 p.m.
**NEW LOCATION**
Wolf Performance Hall | London Public Library (Central branch)
251 Dundas Street in downtown London 
The top 20 students from our six heats will present in the final competition on Thursday, April 5, 2018 in the Wolf Performance Hall | London Public Library (Central branch) at 7:00 p.m.  A reception for all 3MT participants and guests will follow where we announce our top three winners.
The first-place winner from Western's final will attend 3MT Ontario 2018 taking place at York University in Toronto on Thursday, April 19, 2018.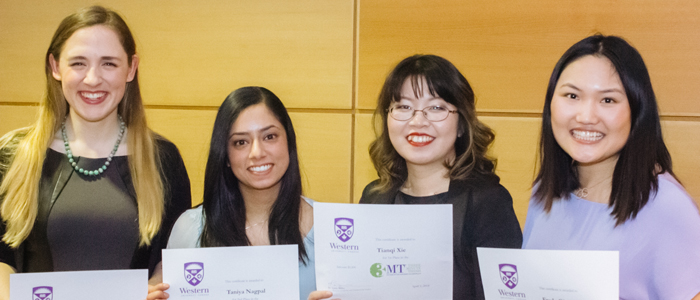 2018 Winners: (from left) Bethany Hynes (third place - tie), Taniya Nagpal (second place), Tianqi Xie (first place), and Freda Qi (third place - tie)
Watch the 2018 3MT Final on RogersTV HERE
What is 3MT?
3MT (Three Minute Thesis) is a research communication competition where graduate students have 3 minutes or less to present their research and its impact to a panel of non-specialist judges and peers. The exercise develops academic, presentation, and research communication skills and supports the development of research students' capacity to effectively explain their research in language appropriate to an intelligent but non-specialist audience.
The competition was developed by The University of Queensland (UQ), Australia. The first 3MT was held at UQ in 2008 with 160 graduate students competing. Enthusiasm for the 3MT concept grew and its adoption in numerous universities led to the development of an international competition in 2010. Western University was one of the first Canadian universities to host a 3MT competition in April, 2012.
This fun and challenging academic competition is an excellent opportunity for graduate students to improve their communication skills. Whether it be networking, a job application, research opportunity or scholarship application, the ability to effectively communicate complex research and its impact using open language is a valuable skill set.
Competition Details
Current Western graduate students may participate in 3MT:
Presentations must be based on research that is directly related to the student's graduate program thesis, major research paper, or dissertation.
PhD and Master's students who have defended but have not yet graduated are eligible to participate.
Presenters must be available to present, in person, on the day of their heat, and must also be available to present, in person, at the 3MT final at the Wolf Performance Hall, London Public Library (Central branch) on Thursday, April 5, 2018.
A single, static 16:9 PowerPoint slide is permitted (no slide transitions, animations or 'movement' of any description).
No additional electronic media (e.g. sound and video files) are permitted.
No additional props (e.g. costumes, musical instruments, laboratory equipment) are permitted.
No laser pointers are permitted.
Presentations are to be spoken word (e.g. no poems, raps or songs) in English.
Presentations are limited to three minutes maximum and competitors exceeding three minutes are disqualified; likewise, presentations that are significantly shorter than three minutes will be penalized.
The decision of the adjudicating panel is final; scores are never disclosed to the participants.
Presentations will be judged on the basis of three criteria:
Communication
Did the presenter use language and terminology that was clear and understandable?
Was the pace of the talk effective?
Did the presenter use non-verbal communication (i.e. eye contact, voice modulation, body language, etc.) effectively?
Did the slide enhance, rather than detract from, the talk – was it clear, legible, and concise?
Comprehension
Did the talk help you to understand the scholarly research and creativity?
Did the presenter clearly outline the nature and purpose of the scholarly research and creativity?
Did the presenter clearly indicate what is interesting about the scholarly research and creativity?
Did the talk follow a logical sequence?
Engagement
Was the talk engaging?
Did the talk inspire you to want to know more?
Did the presenter convey enthusiasm for their work?
Did the presenter capture and maintain your attention?
Prizes will be distributed at the 3MT Reception at the Wolf Performance Hall, London Public Library (Central branch) on Thursday, April 5, 2018. All participants are encouraged to attend the final and post-competition reception to celebrate the achievements of all presenters. Cash prizes are given to assist winners in attending conferences in order to promote their research and further their academic network.
1st place: $1,000
2nd place: $500
3rd place: $250
Videos
FAQs For Student Participants
Heats take place in rooms located across the university.  Some rooms have a podium, but most participants prefer to stand and move around as they present.  Microphones are generally not used for the heats. For the final, all participants will be wired with either a lapel microphone, or a headset-style microphone similar to the technology used for TED Talks.
Cue cards detract from the delivery of the 3MT and are not allowed.  Please memorize your presentation.
Unfortunately, all scoring is confidential and not provided to participants. Many judges make comments on their judging sheets, and you can email your faculty coordinator to receive this feedback.
The 3MT finals will be photographed and videotaped; preliminary heats may or may not be photographed or videotaped based on the needs of each faculty.  All 20 participant videos will be posted on Western's 3MT Youtube Channel for all to view. London's local television station, RogersTV, is also scheduled to videotape and broadcast the event.
Yes, it is possible to make changes BEFORE your faculty heat REGISTRATION DEADLINE, no later than ONE WEEK before your heat. In the confirmation email you received when registering, you can log back into the 3MT system and simply upload a new slide. The slide that will be used will be the slide you upload closest to your faculty heat deadline.
Yes, the Western Research Forum is an annual event hosted by SOGS that traditionally takes places a few weeks prior to 3MT, with several opportunities to discuss your research in a public, non-specialist setting.
Helpful Links