3MT - Three Minute Thesis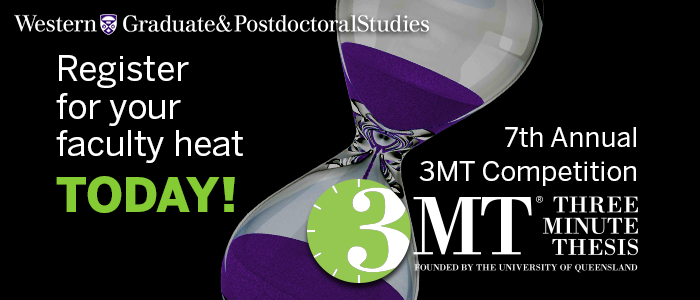 Faculty Heat Schedule 2018 - HEAT SCHEDULE WILL BE POSTED IN LATE 2017

Select Your Faculty and REGISTER Below

Heats will be hosted by each Faculty. Some faculties are grouped together based on historic participation rates. Please register under your corresponding Faculty.  Registration will close one week before your faculty heat date listed below. There will be no exceptions for missed deadlines.
Western's 2018 3MT Final:  Tuesday, March 27 at 10:00 a.m.
The top 20 students from our six heats will present in the final competition on Tuesday, March 27, 2018 in the Davenport Theatre, Talbot College at 10:00 a.m.  A reception for all 3MT participants and guests will follow in the atrium of the International and Graduate Affairs Building.
The first-place winner from Western's final will attend 3MT Ontario 2018 taking place at York University in Toronto on Thursday, April 19, 2018.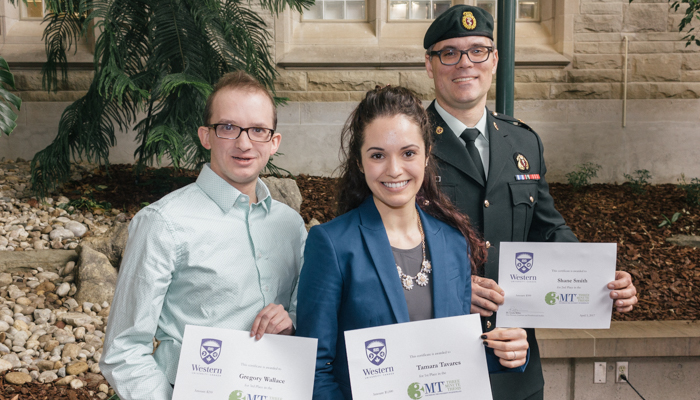 2017 Winners: (from left) Gregory Wallace, third place; Tamara Tavares, first place; and Shane Smith, second place.
What is 3MT?
3MT (Three Minute Thesis) is a research communication competition where graduate students have 3 minutes or less to present their research and its impact to a panel of non-specialist judges and peers. The exercise develops academic, presentation, and research communication skills and supports the development of research students' capacity to effectively explain their research in language appropriate to an intelligent but non-specialist audience.
The competition was developed by The University of Queensland (UQ), Australia. The first 3MT was held at UQ in 2008 with 160 graduate students competing. Enthusiasm for the 3MT concept grew and its adoption in numerous universities led to the development of an international competition in 2010. Western University was one of the first Canadian universities to host a 3MT competition in April, 2012.
This fun and challenging academic competition is an excellent opportunity for graduate students to improve their communication skills. Whether it be networking, a job application, research opportunity or scholarship application, the ability to effectively communicate complex research and its impact using open language is a valuable skill set.
Videos
Preparation Workshops
Competition Details
FAQs
Helpful Links
Questions regarding this event can be directed to Mark Wolfe.