Environment and Sustainability MES
Environment and Sustainability
Master of Environment and Sustainability (MES)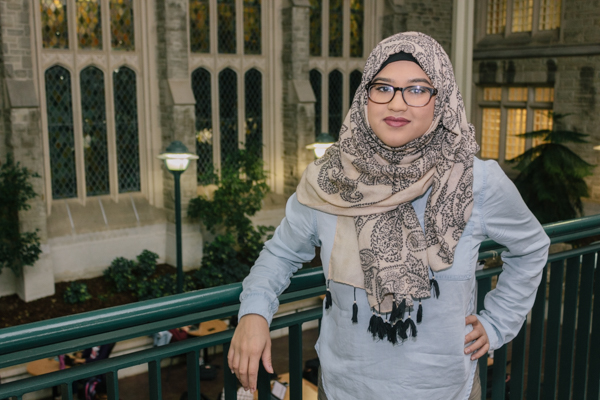 "I love that my grad program is so interdisciplinary. It allows us all to learn from one another, and gives us access to a diverse range of ideas."
Why did you come to Western for your graduate degree?
I was looking for a master's program that was course-based, interdisciplinary, offered a co-op component, and was one year in length. The MES program fit all those requirements.
Do you belong to any university or community groups?
I am the Treasurer of the Environment and Sustainability Society, and I am a member of Western's Pakistani Student Association.
Where's your favourite place on campus?
I enjoy studying in the Taylor library.
What's your favourite book?
I have many favourite books, as I love reading. One of my favourite books is A Thousand Splendid Suns by Khaled Hosseini. It is so beautifully told, and addresses important issues in society.
What's the best advice you could give to someone considering applying to your graduate program?
Make sure you are committed to your vision, and you enjoy what you are studying. It helps you stay on track, and work towards your goals for the future.
Program Websites
Program Contact
Holly Sanderson
(
hsanders@uwo.ca
)
Program Administrator
Centre for Environment & Sustainability
Western University
Western Science Centre Rm 109
London, Ontario N6A 5B7
t.
519-661-2111 ext. 82570
The Master's in Environment and Sustainability program is an accelerated, interdisciplinary course-based Master's degree program with a co-operative work placement term, completed in one full year of study. Students in the program begin study in September and complete their degree the following August.
Program Length
Program Design
Full-time study
Course-based or project-based
Funding Information
Applicants (domestic and international) are encouraged to apply for the following scholarships:
Admission Requirements
4-year undergraduate degree in any discipline*, from an accredited university (BA, BSc, B.Eng)
A third and fourth year combined average of 78% or greater (entrance average)
Applicants who have already completed a Master's degree may apply, using both undergraduate and graduate transcripts
*Some degree programs, such as music or language studies, may not provide suitable background knowledge for the candidate to pursue environment and sustainability studies.
English Language Proficiency
Applicants whose first language is not English must furnish evidence of their proficiency in the use of the English language:
Application Deadline
February 1 (early admission) - Acceptance notification March 1
March 1 - Acceptance notification April 1