Funding & Fees

Our Commitment to Graduate Education
In our pursuit of scholarly and research excellence, Western is committed to graduate education. Western places great importance on helping graduate students finance their education, and we will continue to ensure that the university community is fully aware of all the funding opportunities available to help students succeed.
Graduate students are critical to the research and teaching missions of the university. In turn, through the education of graduate students, Western makes a significant contribution to national and international social, cultural, financial, scientific, and knowledge economies.
Research-Based Graduate Student Funding Support Packages
Western recognizes that students who choose to undertake full-time graduate studies are choosing to delay their entry into the full-time workforce. To help off-set the cost of full-time graduate enrolment, Western provides funding support packages for eligible research-based Master's and PhD students.
Our graduate funding support packages rank as some of the most competitive packages in Canada – they help to reduce the cost of undertaking full-time graduate studies, and reduce financial barriers for students who otherwise may be unable to pursue an advanced degree.
Funding support packages can be comprised of funds from a variety of sources and can differ from student to student. Funding sources include research grants, scholarships, and part-time employment such as teaching or research assistantships.
Funding support packages do not replace full-time employment income.
Average Annual Funding
As one of Canada's leading research institutions, Western places great importance on recruiting exceptional graduate students.  The following chart illustrates the average funding Western graduate students receive from all sources.
| | | | | | |
| --- | --- | --- | --- | --- | --- |
| Degree Type | 2013 | 2014 | 2015 | 2016 | 2017 |
| Doctoral | $31,114 | $31,509 | $30,579 | $32,065 | $32,858 |
| Master's | $22,477 | $22,860 | $22,696 | $23,060 | $23,202 |
We offer competitive funding support packages to help achieve this goal, allowing graduate students to focus on their research and development.
Western's Doctoral Funding Guarantee
While at Western, you will want to devote your full energy to the successful completion of your studies, so we want to ensure that stable funding is available to you. Western guarantees minimum annual funding for doctoral students, from all sources, of $13,000 plus tuition.
For doctoral students who start in September 2019 (September 1, 2019 – August 31, 2020), the Doctoral Funding Guarantee for domestic and international students is $19,360.
In addition to the financial support available from federal and provincial sources and research grant support, Western offers a variety of internal awards that are among the best available to outstanding scholars in Canada. Full-time Western graduate students are eligible for support from the School of Graduate and Postdoctoral Studies, provided they meet the appropriate criteria.
---
Western releases Fee Schedules to itemize the fees and tuition rates associated with your studies.  

These fee schedules can be accessed via the Office of the Registrar.

---
There are two main categories of funding available to graduate students at Western: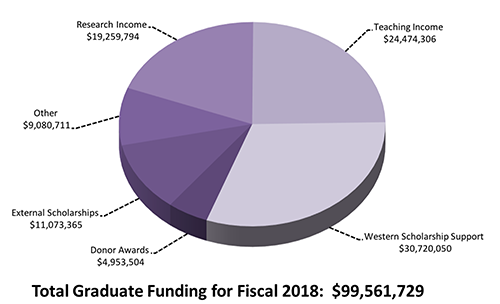 Western funding is generally agreed upon at the time you are admitted to your graduate program.  At that time your program will decide what amounts and sources can be offered to you.  These levels can vary by your degree, program or faculty.
External funding is generally obtained by the student via an application for grants and fellowships offered by provincial or federal governments, foundations or other agencies.  These applications may be accepted prior to a student beginning their studies or during their graduate studies.  
---
Financial Assistance
Graduate students who find themselves in financial need have access to a full range of bursary programs, loans and financial aid counselling at Western.
---
International Scholarships
The following are featured funding opportunities that support international students applying to graduate research degrees at Western.