Music
Master of Music (MMus)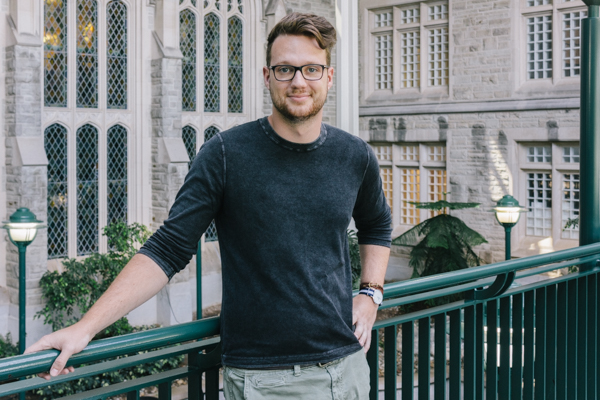 "Come visit the program and meet the faculty. I think anyone will find a sense of community and vibrancy. I knew within minutes of being here that this is where I wanted to be."
Why did you come to Western for your graduate degree?
Western offered me incredible faculty. Not only are they brilliant, experienced musicians and fantastic teachers, but I also I feel that they care about me as a student, about my success and growth during my time at Western.
Describe your research.
I am currently working on a chamber opera, attempting to expand my control of large form harmony, vocal writing, and drama in music.
What is it about your grad program that enables you to thrive and be successful?
I feel this program offers me the perfect combination of structure and rigor with artistic freedom. This balance offers me the best growth as an artist.
What is your "dream" career?
I hope to compose art music full time, but also look forward to the possibilities of teaching and commercial writing such as music for video games, television, and movies.
What are you most passionate about?
Music, most definitely, but I am always looking out for any form of creative expression and collaboration.
Program Websites
Program Contact
Audrey Yardley-Jones
(
ayardley@uwo.ca
)
Graduate Program Assistant
Don Wright Faculty of Music
Western University
Talbot College, Room 216
London, Ontario N6A 3K7
t.
519-661-2111 ext. 85354
The Master of Music (MMus) degree is available in three fields: MMus in Composition; MMus in Literature and Performance; and MMus in Music Education.
Program Length
5 Terms (Full-time study)
Program Design
Full-time study or part-time study
Thesis-based or course-based
Funding Information
Applicants are encouraged to apply for the following scholarships (if eligible):
Admission Requirements
Detailed admission requirements by program:
English Language Proficiency
Applicants whose first language is not English must furnish evidence of their proficiency in the use of the English language:
Application Deadline
January 15 - Acceptance notification in early March
Applications received after the deadline are contingent on space availability and funding.
Fields of Research
Composition
Literature and Performance
Music Education