Orthodontics
Master of Clinical Dentistry (MClD)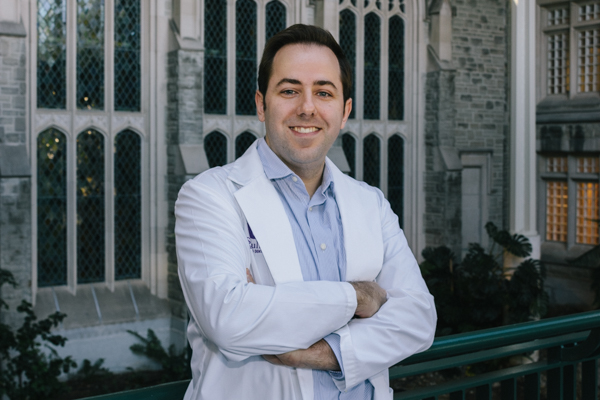 "The graduate orthodontics program at Western has an excellent reputation for providing an exceptional education, both academically and clinically. I was proud to be accepted here."
What is it about your grad program that enables you to thrive and be successful?
I believe it starts from the top. The Orthodontics Chair and the Clinic Director have done an outstanding job creating a positive working and learning environment for all the residents. We also have excellent orthodontic instructors, and Western faculty, who devote their time to our education. Our clinical and administrative staff is also very well organized and supportive which allows us to get the most out of our day-to-day learning.
Where is "home" for you?
Saint John, New Brunswick.
Describe your research.
An orthodontist not only needs to understand the biomechanics of moving teeth in a healthy and stable way, but also requires a thorough understanding of the growth of the jaws. I am doing a cephalometric (radiographic) study that is investigating nasal morphology as a possible predictor for craniofacial growth direction.
Do you engage in volunteer activities?
Back home in New Brunswick, I am involved with coaching Special Olympics soccer. In fact, I was one of the coaches who represented New Brunswick at the 2010 Special Olympics Canada Summer Games here in London, Ontario.
Have you worked as a TA or RA?
I have worked as a TA teaching third year dental students part of their orthodontic component. Being involved in academia is something that I hope to do following my time here as a graduate student, so it was a great experience.
Program Websites
Program Contact
Andrea Marsh
(
postgraddentistry@schulich.uwo.ca
)
Postgraduate Program Administrator for Dentistry
Graduate Program of Orthodontics
Schulich School of Medicine & Dentistry
1013 Dental Sciences Building
London, Ontario N6A 5C1
t.
519-661-2111 Ext. 86114
f.
519-661-2075
The purpose of the program in Orthodontics is to provide the academic background and clinical experience appropriate to the specialty of Orthodontics. The program is fully accredited by the Council on Education of the Canadian Dental Association, and meets the specialty certification requirement of the Royal College of Dental Surgeons of Ontario and the eligibility requirement of the Royal College of Dentists of Canada.
Program Length
Program Design
Full-time study
Thesis-based
Funding Information
Tuition and Fees
Tuition and fee schedules (per term) are posted on the Office of the Registrar's website at http://www.registrar.uwo.ca/student_finances/fees_refunds/fee_schedules.html
Admission Requirements
Completion of DDS or DMD degree or equivalent in Canada, U.S., Ireland, or Australia

For applicants who have obtained their dental degree from a school outside of the countries listed above, it is MANDATORY that you complete a two year qualifying program (Internationally Trained Dentist program) from an accredited school in Canada and then Part I and Part II of the Canadian National Dental Board exam.


Graduation with at least a B standing
Preference given to candidates with at least 2 years in general practice and a license to practice in Canada
Graduate students are expected to maintain a B standing throughout their course of study
English Language Proficiency
Applicants whose first language is not English must furnish evidence of their proficiency in the use of the English language:
You must have the testing service send your score electronically to Western
Graduate Record Examination (GRE)
Required for applicants that graduated from a school outside of Canada/United States Western GRE ID=0984

For applicants who have graduated from a school outside of Canada or the United States, it is MANDATORY that you complete a two year qualifying program from an accredited school in Canada and then Part I and Part II of the Canadian National Dental Board exam.
Please refer to the Internationally Trained Dentists program at Schulich Dentistry. Preference is given to applicants trained in Canadian and American Dental Schools. 
Application Deadline
Domestic Students
International Students