Public Health
Master of Public Health (MPH)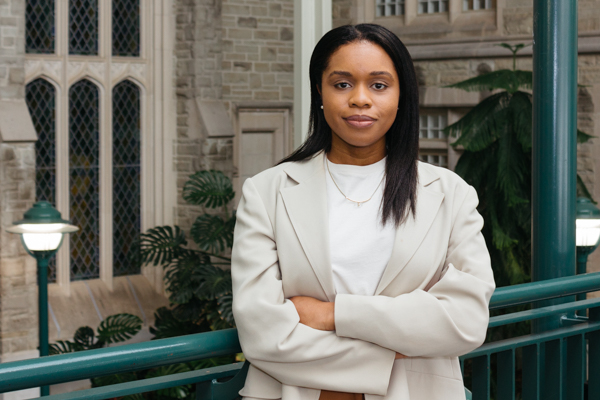 "The MPH program has multiple attributes which allow me to succeed. The program feels like a community, so I really feel a sense of camaraderie with my classmates. Additionally, our professors and program staff are very supportive including providing academic guidance and career advice."
Why did you come to Western for your graduate degree?
Western is a renowned academic institution that hosts a distinguished Master of Public Health program, which uses a combined case-based and team-based approach to learning. This method creates an environment that truly fosters learning through effective collaboration, problem solving and critical thinking. Having worked in professional environments for a few years prior to my graduate studies, I can also say that this method imparts professional skills that can translate very well into professional work environments.
Have you worked as a research assistant?
Prior to my graduate studies at Western, I worked full-time as a Clinical Research Coordinator at an academic hospital in Toronto. Working in clinical research, I developed valuable research and technical skills such as manuscript and protocol writing, research ethics, data analysis and clinical trial management. This role has allowed me to gain a thorough understanding of the entire research process, which has served me very well in graduate school. The knowledge and skills I have obtained from this role have set a solid academic foundation, which directly translates to my academic career.
What is your "dream" career?
My dream career involves working as a public health professional in an innovative, collaborative, and interdisciplinary space on projects that improve access to healthcare and improve health outcomes, especially for vulnerable populations.
Where's your favourite place on campus to work?
During the warmer months, the patio tables behind the Western Centre for Public Health and Family Medicine building, which are surrounded by lots of greenspace, are a fantastic place to work and connect with classmates.
What's the best advice you could give to someone considering applying to your graduate program?
Public health is a tremendously diverse and interdisciplinary field. I would encourage applicants to continue to develop their passions within public health and explore new areas within the field. For example, health promotion, disease surveillance, or child and adolescent health. It can also be very beneficial to connect with professionals in the field, and speak with students and alumni who can provide valuable insight into the MPH degree and public health as a career.
Program Websites
Program Contact
Program Coordinator
(
publichealth@schulich.uwo.ca
)
Schulich Interfaculty Program in Public Health
Schulich School of Medicine & Dentistry
The Western Centre for Public Health and Family Medicine, 4th Floor
London, Ontario N6G 2M1
t.
519.661.2111 x86279
f.
519-661-2004
The Master of Public Health Program features real public health issues as the foundation of students' learning, immersing participants in some of the most significant and complex public health crises that our country and globe have experienced. Our MPH Program offers a unique intersection between leadership, policy and sustainability. During this 12-month, case-based/experiential learning Program, students will have the opportunity to apply their previous work and health-related experience to discuss a wide-range of views and practices while gaining the knowledge and skills to lead in an ever-changing and increasingly challenging public health landscape.

The case method of learning is not about the traditional lecture-style classroom setting: it is about the student being an active part of the learning experience; that means learning by doing. It introduces complex and often ambiguous real-world scenarios into the classroom, forcing students to think and make decisions often with incomplete and inaccurate data. This prepares graduates for the dynamic conditions they'll encounter in their careers.

Special features of the MPH Program include:
12-week practicum
Small cohort with no more than 60 students
Accredited by the Council on Education for Public Health (CEPH)
Faculty members from Health Science, Science, Social Science and Brescia University College
Program Length
Program Design
Full-time study
Course-based
Tuition and Fees
Tuition and fee schedules (per term) are posted on the Office of the Registrar's website at http://www.registrar.uwo.ca/student_finances/fees_refunds/fee_schedules.html
Admission Requirements
The MPH Program will admit professionals who desire advancement in their knowledge in public health and/or who are preparing for leadership roles within public health. We accept students from a variety of backgrounds; we will strive for maximum diversity in the cohort of students.

Both education and experience are important eligibility criteria. Competitive applications will include:

A four-year undergraduate degree with a minimum 70 per cent (Canadian equivalent) over the last two years of study.
Demonstrated public health experience (work, volunteer, etc.)
Demonstrated English language proficiency (TOEFL, IELTS) if you have not studied at the post-secondary level for at least two years in an English-speaking country (Canada, United States, Australia, New Zealand, United Kingdom, and Nigeria). See below for details.
Recommended: successfully completed undergraduate statistics course with a minimum 70 per cent (Canadian equivalency) within the last five years.
Additionally, international students must meet English language fluency requirements as outlined below.
English Language Proficiency
Applicants whose first language is not English must furnish evidence of their proficiency in the use of the English language by a satisfactory achievement within the last two years in one of the following:
Students who are required to present evidence of proficiency in English must make their own arrangements to write the TOEFL, IELTS, or CAEL and to have the official results sent directly to the School of Graduate and Postdoctoral Studies by the testing agency. Those graduates from Level 10 of the Fanshawe College ESL Program must provide official proof of graduation.
Application Deadline
Domestic & International Students
Acceptance notification begins in April and continues until August.