Education - Professional MPEd
Education - Professional
Master of Professional Education (MPEd)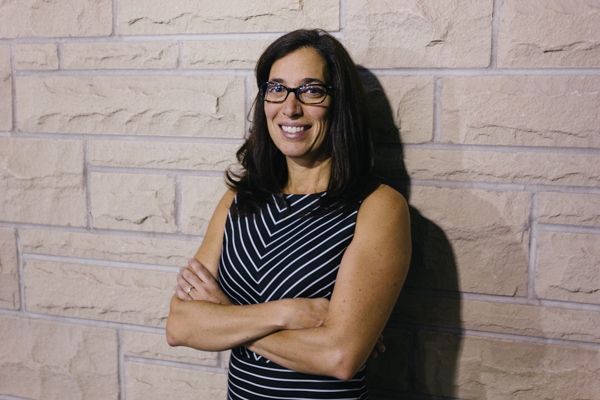 "I have found Western to be very accommodating of our out of school lives while trying to make our learning authentic and valuable."
What is it about your grad program that enables you to thrive and be successful
?
The fact that the program can be completed online enables me to thrive and be successful. I am able to work full time, and continue to be available to my young family, without having to attend classes on campus.
What do you do in your spare time?
Watch my daughters play ringette and soccer, and run with my husband.
What's the best advice you could give to someone considering applying to your graduate program?
I would suggest familiarizing yourself with your board's focus. I wish I had known that our school board's directive was going to be in math, as I was debating between applying to the math or the Multiliteracies MPEd.
What idea, suggestion, or comment would you like to share with the Western graduate community?
I really appreciate the quick responses and support from the graduate office. As well, the online librarian assistance is extremely helpful.
What's your favourite book?
It's a tie: Make it Stick and Outliers.
Have you taken any professional courses that Western makes available to grad students?
I attended the resume and cover letter workshops, as well as the career day. I also met one-on-one with a resume consultant. I participated in the career center's video recording interview process as well. It benefited me by improving my resume, cover letter, and interview skills.
Many of our Master of Professional Education (MPEd) programs are fully online graduate degree programs. These programs are designed to prepare candidates for advanced success in leadership and/or teaching roles. These are course-based degrees (i.e., no thesis requirement, but with a final capstone project, or internship) that prepare students to solve real problems in local settings of professional practice.

Note: Successful completion of the program does not lead to certification with the Ontario College of Teachers.
Program Length
3 Terms (TESOL field only)
6 Terms (All other fields)
Program Design
Full-time study
Course-based
Fully online (Except TESOL)
Tuition and Fees
Tuition and fee schedules (per term) are posted on the Office of the Registrar's website at http://www.registrar.uwo.ca/student_finances/fees_refunds/fee_schedules.html
Admission Requirements
A four-year degree (20 full courses or equivalent) from an accredited university.
Minimum "B" standing (70%) or equivalent in the final two years of study.
Applicants with 3-year degrees will be considered on a case-by-case basis if seats are available in programs. Successful experience as an educator in a professional setting may be considered in the selection process.
Additionally, applicants to the Applied Behavior Analysis field are required to have a background in psychology.
English Language Proficiency
Applicants whose first language is not English must furnish evidence of their proficiency in the use of the English language:
Application Deadline
More information about the application process and deadlines can be found on our How to Apply page. Applicants are encouraged to submit early.
Fields of Research
Applied Behavior Analysis
Curriculum and Pedagogy
Early Childhood Education
Educational Leadership
Equity, Diversity, and Social Justice
French Education
Global and International Education
International School Leadership
Leadership in Indigenous Education
Literacy Education
Mathematics Education
Teaching English to Speakers of Other Languages
Teaching Students with Exceptionalities