Physics
Doctor of Philosophy (PhD)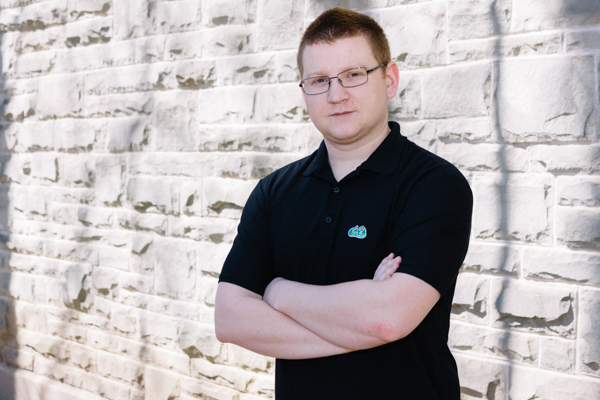 "The people in the Physics department are amazing. From fellow students to faculty and staff, everyone is welcoming and nice to interact with. That makes it very easy to ask people for help, have casual/formal discussions about research, and socialize with outside the University."
Supervisor: Dr. John de Bruyn
Where is "home" for you?
Ottawa, Ontario
Why did you come to Western for your graduate degree?
A combination of my supervisor and the work I would be doing. I really enjoyed the work I did for my undergraduate thesis under the same supervisor, and after discussing with him ideas for a potential graduate project, I decided to stay and continue my graduate studies here.
Describe your research in 100 words or less.
I am interested in designing new tools to study fluids. One method for studying fluids is to vibrate a structure in it (e.g., a wire, or a small plate) ,and observe how the fluid affects the vibrations. A very viscous fluid, like honey, will resist the motion of the structure, damping its motion, more than a less viscous fluid, like water. More complex fluids, like polymer solutions, may possess elastic properties as well. Both the viscous and elastic properties of complex fluids influence the motion of a vibrating structure in a way measureable by my devices.
What's your favourite book?
A Song of Ice and Fire
series
Where's your favourite place on campus to work?
My office. The space provided to me is an excellent space for me to work and study in peace. The view overlooking UC hill isn't bad either! The atrium space in the Physics and Astronomy building is also a wonderful place to sit and socialize or get some work done when I need a change of scenery.
What's the best advice you could give to someone considering applying to your graduate program?
The best way to see if you'll like it here is to come and visit the campus, talk to current students here, and, most importantly, talk to prospective professors about their research and see what interests you.
Program Websites
Program Contact
Brian Davis
(
bdavis66@uwo.ca
)
Graduate Affairs Assistant
Department of Physics & Astronomy
Western University
Physics and Astronomy Building Rm 138A
London, Ontario N6A 3K7
t.
519.661.2111 ext. 86639
f.
519-661-2033
Our department offers programs in both physics and astronomy leading to MSc and PhD degrees. We have a vibrant core faculty of 30 researchers covering the areas of astronomy, condensed matter physics, medical physics, atmospheric physics and planetary science.


The Own Your Future doctoral professional development program will help you become a career-ready graduate with the skills necessary to excel in your studies and achieve your future goals. By participating in the program, you will assess your own strengths and opportunities for growth, choose what skills you want to enhance during your time at Western, and learn how to articulate the skills you gained in your degree to optimize your future career opportunities. To learn more, visit www.uwo.ca/ownyourfuture.
Program Length
Program Design
Full-time study
Thesis-based
Funding Information
Applicants are encouraged to apply for the following scholarships (if eligible):
Tuition and Fees
Tuition and fee schedules (per term) are posted on the Office of the Registrar's website at http://www.registrar.uwo.ca/student_finances/fees_refunds/fee_schedules.html
Admission Requirements
M.Sc. degree (or equivalent) in Physics or Astronomy.
Achieved at least a 70% (B) average taken over all graduate courses.
Additional Requirements
International students are encouraged to take the GRE-Physics exam to both strengthen their application and to help the Admissions Committee more fairly evaluate it.
English Language Proficiency
Applicants whose first language is not English must furnish evidence of their proficiency in the use of the English language:
Application Deadline
Domestic Applicants:
January 15 - recommended for Fall term. Later applications may be accommodated on a first-come, first-served basis.
International Applicants:
Students typically begin their studies in September.
Fields of Research
Condensed Matter
Medical Physics
Planetary Physics