Statistics
Master of Science (MSc)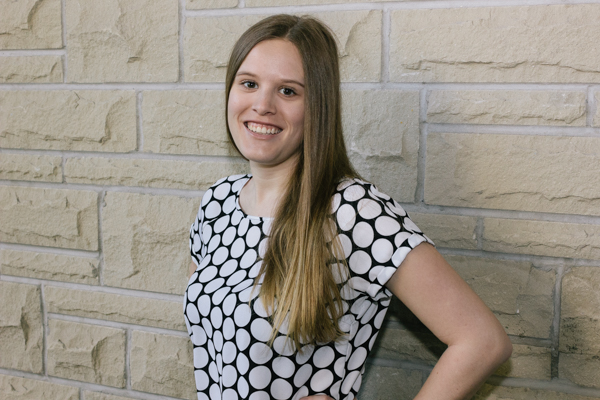 "I enjoy the community that Western University offers – both within the programs and also as a wider network."
Supervisors:
Charmaine Dean and Douglas Woolford
Why did you come to Western for your graduate degree?
I decided to come to Western because of the opportunity to work alongside Douglas G. Woolford in the Statistics Department. I find his research extremely interesting and knew that we would work well together, since I was an undergraduate research assistant for him in the past.
Where's your favourite place on campus?
My favourite place on campus is my office in the Western Science Centre building. I like it because I have my own work station with a computer and there are only three other graduate students in the office.
What is it about your grad program that enables you to thrive and be successful?
I believe the faculty is the main reason I am able to thrive. The professors are approachable and welcoming, allowing students to feel comfortable with asking questions. They are understanding and very helpful, showing that they want their students to succeed.
What idea, suggestion, or comment would you like to share with the Western graduate community?
Try to make an effort to meet other graduate students from different departments and fields. It is very easy to get bogged down with work and stay within the spaces of your own department. The Society of Graduate Students (SOGS) and the School of Graduate and Postdoctoral Studies (SGPS) put on many events each year. It is definitely worth it to attend events and meet new people!
Program Websites
Program Contact
Miranda Fullerton
(
stats-grad-inquiry@uwo.ca
)
Graduate Program Coordinator - Statistical and Actuarial Science
Department of Statistical and Actuarial Sciences
Western University
Western Science Centre Rm 262
London, Ontario N6A 5B7
t.
519-661-2098
f.
519-661-3813
Our department's Master's program encompasses three fields: Statistical Theory, Actuarial Science and Financial Modelling. Students in the Statistical Theory field will study probability, inference, statistical computing and data analysis in depth. Students in the Actuarial Science field will learn about survival analysis, risk, ruin, mortality and their connections with finance. Students in the Financial Modelling field will learn the theory and application of deterministic and stochastic models used in the banking industry.
Program Length
3 Terms (Project-based)
6 Terms (Thesis-based)
Program Design
Full-time study
Project based or thesis-based
Funding Information
Applicants are encouraged to apply for the following scholarships (if eligible):
Admission Requirements
Four year undergraduate degree from a recognized institution with sufficient background in Statistics, Actuarial Sciences and/or Financial Modelling.
English Language Proficiency
Applicants whose first language is not English must furnish evidence of their proficiency in the use of the English language:
Application Deadline
February 15 - International Applicants


July 1 - Domestic Applicants
Applications received after the deadline will not be considered. Completed applications are reviewed on a continuous basis. Applicants are strongly encouraged to apply as early as possible.
Fields of Research
Actuarial Science
Financial Modelling
Statistics