Theory and Criticism
Master of Arts (MA)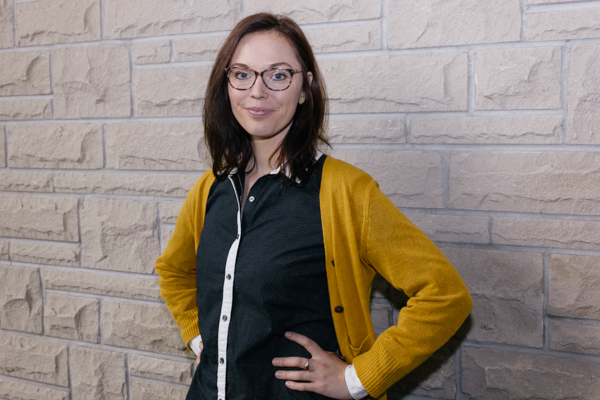 "The unique, rigorous and creative possibilities within the Theory and Criticism program, and Western's reputation as a top Canadian school, are the two main reasons I chose Western for my Master's work."
Supervisor: Antonio Calcagno
What is it about your grad program that enables you to thrive and be successful?
The diverse, interdisciplinary nature and academic freedom in the Theory and Criticism program has allowed me to be creative in my thinking and writing. The Centre for the Study of Theory and Criticism gives students guidance but also allows for exploration, which has been exciting for me as a scholar.
Where's your favourite place on campus.
I like to work in the Pride Library. It is cozy, quiet and always feels very warm and inviting. I also really like the café in Weldon Library.
What idea, suggestion, or comment would you like to share with the Western graduate community?
Connecting various departments through interdisciplinary work is the best way to understand one another and thus gain a broader and more comprehensive picture of the academic landscape that Western has to offer.
Do you serve on any committees?
I am currently the co-organizer for the Interdisciplinary conference, "Toxic/cities," which is a collaboration between the Centre for the study of Theory and Criticism, Comparative Literature, and Hispanic Studies. The conference will run for three days with speakers in at least three languages and academics from across North America.
What's the best advice you could give to someone considering applying to your graduate program?
Don't be afraid to be bold and creative in your academic choices. Speak to professors from different areas before settling on your thesis and advisor. The breadth of knowledge available to students though the Theory and Criticism program is a huge part of what makes it so unique. When you find something that is intellectually intriguing to you, keep digging and surround yourself with other inquisitive minds.
Program Websites
Program Contact
Melanie Caldwell
(
mcaldwe2@uwo.ca
)
Program Coordinator
Centre for the Study of Theory and Criticism
Western University
Stevenson Hall Rm. 2157
London, Ontario, Canada, N6A 5B8
t.
519-661-2111 ext. 83442
f.
519-850-2927
Western's program has established strengths in social & political theory and media & cultural studies, while maintaining its traditional strengths in critical theory and continental philosophy. What distinguishes the Theory Centre's MA program from other graduate programs is the serious attention given to intellectual history, and to its connection to contemporary forms of critical theory. Although the program emphasizes the study of theory as a distinct object of inquiry, and thus supports speculative inquiries about particular forms of theory, it also encourages students to engage with contemporary critical aesthetic, social and political inquiry.
Program Length
Program Design
Full-time study
Thesis-based
Funding Information
Applicants are encouraged to apply for the following scholarships (if eligible):
Admission Requirements
A four-year degree from an accredited university with a minimum B+ (78%) average across courses taken in the last two full-time years of study.
B.A. in a field in the Humanities or Social Sciences (however, students holding other Honors degrees will also be considered).
Additional Requirements
Some demonstration of theoretical and/or interdisciplinary study at the undergraduate level is helpful, though the Committee may also consider candidates with a more general interest in and aptitude for theoretical enquiry (as indicated through grades, essays and letters of reference).
English Language Proficiency
Applicants whose first language is not English must furnish evidence of their proficiency in the use of the English language:
Application Deadline
January 8 - Acceptance notifications usually take place in March