Visual Arts
Master of Arts (MA)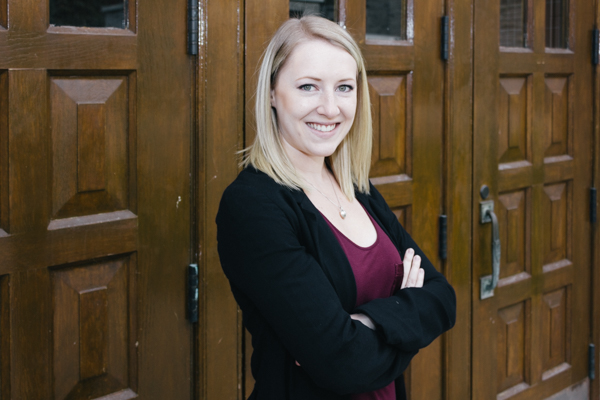 "I made really great professional relationships with the faculty during my undergraduate studies and wanted to continue working with these scholars."
Why did you come to Western for your graduate degree?
My program at Western offered more flexibility and independence with regards to course design and scheduling than the other institutions I was offered admission to.
What is it about your grad program that enables you to thrive and be successful?
The program is a tight-knit group of students that bounce ideas off each other and offer support to one another. We also know our professors well, due to our small class sizes, and the fact that they are super approachable.
Do you engage in volunteer activities?
I volunteer with museum London for events and with the McIntosh gallery as a research assistant.
What's the best advice you could give to someone considering applying to your graduate program?
Come talk to the professors and the students! We can give you intimate details about the program that you can't find online or in a brochure.
What idea, suggestion, or comment would you like to share with the Western graduate community?
If I could share anything with the Western graduate community it would be a reminder that this is just that, a community. It can be inspiring when we come together and collaborate. My research doesn't fit perfectly into one faculty or field, which means I'm always interested in what students are doing in other disciplines. So share what you're doing! Start a conversation!
Have you worked as a TA or RA?
I'm a full time TA. This experience has helped me understand the academic world and the university as an institution. You also gain invaluable leadership and teaching skills, which is great if you're hoping to pursue teaching.
Program Websites
Program Contact
Graduate Program Coordinator
(
vagrads@uwo.ca
)
Department of Visual Arts
Western University
John Labatt Visual Arts Centre
London, Ontario N6A 5B7
t.
519-661-2111 ext. 83440
f.
519-661-2020
The one year MA in Art History and Curatorial Studies offers training in the histories and theories of art and visual culture. The MA degree requires full-time study for three terms (fall, winter, summer) and has two streams, a course-based stream and a thesis-based stream. It prepares its graduates for advanced study in the field, as well as for careers in museums, galleries, and other areas of the arts. In first semester, all MA and MFA students take a core course in art theory and research methods together, thereby providing opportunities for exchange between historical and contemporary perspectives. From there, students work in small seminar courses, complete a second language requirement, have the opportunity to undertake an internship, and complete either a major research paper or thesis, depending on stream.
Program Length
Program Design
Full-time study
Thesis-based
Course-based


Funding Information
Applicants (domestic and international) are encouraged to apply for the following scholarships:
Admission Requirements
Honours BA degree in art history or visual arts with a minimum B+ standing.
Students with equivalent qualifications in relevant visual fields such as film or media studies will also be considered.
Additional Requirements
Students must submit a sample of written work (normally an essay in art history).
English Language Proficiency
Applicants whose first language is not English must furnish evidence of their proficiency in the use of the English language:
The Test of English as a Foreign Language (TOEFL). Minimum acceptable score is 86 with no individual score below 20 for the internet version. However, because our programs require students to have a higher level of English language ability due to the expectations and requirements of the program, we recommend a minimum overall score between 90 and 92 and a minimum of 23 on the speaking component. [Western's TOEFL ID is 0984].
Application Deadline
January 15 - Acceptance notification in March