Visual Arts
Master of Arts (MA)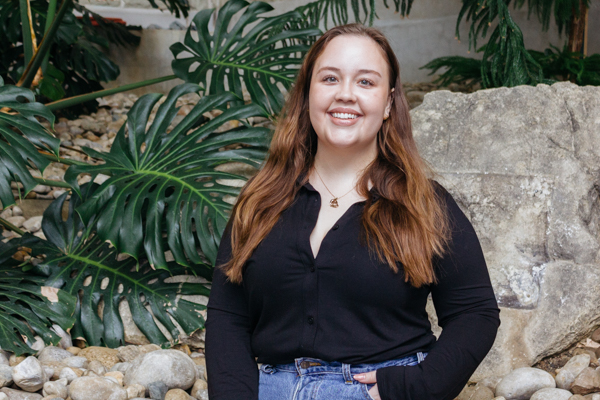 "What makes Western's grad program so fantastic is the incredible hands-on opportunities students are provided with."
Describe your research.
The focus of my Master's research explores the visual arts, literature, environmentalism, sustainability, and geology in T. S. Eliot's poem "The Waste Land." I'll be examining the ways in which Eliot's poem operates as a framework through which we can examine our society's current state of climate emergency. My research will culminate in my curation of an exhibition that will examine how contemporary artists have used the metaphor of "waste lands" as a way to navigate and find meaning in our contemporary ecological moment.
What is it about your grad program that enables you to thrive and be successful?
I was lucky enough to have been selected to work as an intern at the McIntosh Gallery this past term, working alongside curator and Professor Helen Gregory, and aiding in research for an upcoming publication on "The Botanical Turn" exhibit. The program is unlike any other as it offers diverse program streams. For example, I'm part of the "Project Based" stream, meaning I have the opportunity to build an exhibit related to my area of study.
Where's your favourite place on campus to work?
My favourite place to work and study on campus has to be the river that runs behind the Visual Arts Centre. It's the perfect quiet spot to read a book, eat your lunch, or sketch when you need a break from the bustle of campus.
What's the best advice you could give to someone considering applying to your graduate program?
My advice for anyone looking to apply to my graduate program would be to reach out to the current chair of the department, or professors in the area of study they're hoping to pursue, and ask to meet with them in person. This allows incoming students to make one-on-one connections with university professionals and potential future professors.
Program Websites
Program Contact
Linda Meloche, Program Assistant
(
vagrads@uwo.ca
)
Department of Visual Arts
Western University
John Labatt Visual Arts Centre
London, Ontario N6A 5B7
t.
519-661-2111 ext. 83440
f.
519-661-2020
The one year MA in Art History and Curatorial Studies offers training in the histories and theories of art and visual culture. The MA degree requires full-time study for three terms (fall, winter, summer) and has two streams, a course-based stream and a thesis-based stream. It prepares its graduates for advanced study in the field, as well as for careers in museums, galleries, and other areas of the arts. In first semester, all MA and MFA students take a core course in art theory and research methods together, thereby providing opportunities for exchange between historical and contemporary perspectives. From there, students work in small seminar courses, complete a second language requirement, have the opportunity to undertake an internship, and complete either a major research paper or thesis, depending on stream.
Program Length
Program Design
Full-time study
Course-based, project-based or thesis-based
Funding Information
Applicants are encouraged to apply for the following scholarships (if eligible):
Tuition and Fees
Tuition and fee schedules (per term) are posted on the Office of the Registrar's website at http://www.registrar.uwo.ca/student_finances/fees_refunds/fee_schedules.html
Admission Requirements
Honours BA degree in art history or visual arts with a minimum B+ standing.
Students with equivalent qualifications in relevant visual fields such as film or media studies will also be considered.
Additional Requirements
Students must submit a sample of written work (normally an essay in art history).
English Language Proficiency
Applicants whose first language is not English must furnish evidence of their proficiency in the use of the English language by a satisfactory* achievement within the last two years in one of the following:
*Programs at Western may require a higher minimum score than those listed above.
Students who are required to present evidence of proficiency in English must make their own arrangements to write the TOEFL, IELTS, or CAEL and to have the official results sent directly to the School of Graduate and Postdoctoral Studies by the testing agency. Those graduates from Fanshawe College's ESL Program must provide official proof of graduation.
Exemptions
Other formal evidence of graduate level proficiency in English may be considered in lieu of these test scores. Students must contact the graduate program(s) to which they have applied in order to determine if test scores will not be required. A decision will then be made at the discretion of the School of Graduate and Postdoctoral Studies for exemption. For the French and Spanish programs only, evidence of proficiency in English is a degree requirement but not a requirement for admission.
Application Deadline
January 15 - Acceptance notification in March