Biochemistry
Doctor of Philosophy (PhD)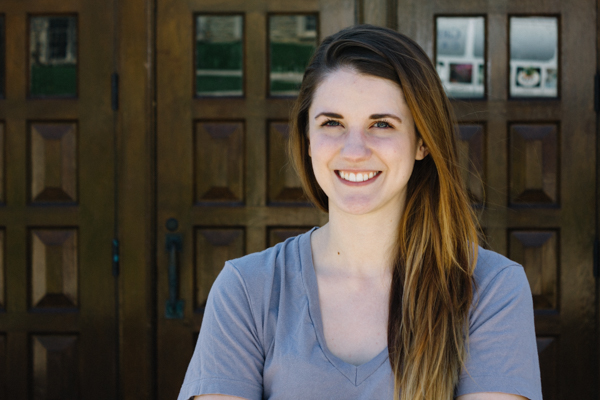 "The Department of Biochemistry is a diverse research program. Through the course work, seminars and student presentations it teaches you skills in communication, critical thinking and presentation, all of which are invaluable to a researcher. Additionally, working at Robarts has allowed me to collaborate externally from my department. Robarts Imaging has also provided me with the opportunity to include an imaging component to my research project, which is very unique."
Supervisor: Dr. Murray Huff
Where is "home" for you?
Port Moody, British Columbia. It's in the lower mainland, just outside Vancouver.
Why did you come to Western for your graduate degree?
I decided to come to Western for my graduate degree for my lab and supervisor. I completed my honors thesis project in Murray Huff's laboratory. When applying for grad school, I interviewed with other labs at different schools and I realized I already had a good mentor and a good research environment that Western and Robarts provided, so I decided to stay.
What's the best advice you could give to someone considering applying to your graduate program?
Choose your project and your lab carefully. Make sure it's something that you are interested in and would be willing to commit up to five years of life. Also make sure that you can imagine working with the people in your lab because of the same reasons. Grad school is a huge commitment and a lot of work. I wouldn't make any impulsive decisions because you don't know what is next for you. Not liking your project or working in an environment not right for you will make grad school more difficult than it should be.
What idea would you like to share with the Western graduate community?
Make work-life balance a priority. It will help prevent you from feeling burnt out part way through your degree. I find that it also helps me work more efficiently when I am at work.
Do you belong to any university or community groups?
Yes. I am a member of the Western Climbing Club. It's a lot of fun and they are very welcoming of beginners. It's a great environment.
What are you most passionate about?
Other than a passion for research and science, I would say something that I am passionate about is connecting with people. I think that taking the time to talk and listen to other people speaks a lot about you as a person. It also helps you get behind an idea or project when you have an emotional connection.
What one thing would you like people to know about you?
I am a very approachable person and would always be willing to try and help someone out.
Program Websites
Program Contact
Megan Luckovitch
(
mluckovi@uwo.ca
)
Graduate Program Administrator
Department of Biochemistry
Western University
Medical Sciences Rm 342
London, Ontario N6A 5C1
t.
519-661-2111 ext. 86850
Biochemistry is used to study living systems at the molecular level. The research of our PhD students spans a variety of interconnected fields that aim to understand and treat human disease and improve human health and well-being.

Several groups are studying human genetics, genome dynamics and epigenetics, and the regulation of gene expression, including the regulatory roles of RNA. Others are focused on protein structure and function, proteomics, and cellular signalling. Computational approaches and bioinformatics are becoming increasingly integrated into biochemical research. And new technologies are enabling efforts to engineer biological systems for research and biotechnology, ushering in the exciting new era of synthetic biology that includes the editing and synthesis of genomes, genetic code expansion, and the creation of new biosynthetic pathways and even new organisms.


The Own Your Future doctoral professional development program will help you become a career-ready graduate with the skills necessary to excel in your studies and achieve your future goals. By participating in the program, you will assess your own strengths and opportunities for growth, choose what skills you want to enhance during your time at Western, and learn how to articulate the skills you gained in your degree to optimize your future career opportunities. To learn more, visit www.uwo.ca/ownyourfuture.
Program Length
Program Design
Full-time study
Thesis-based
Funding Information
Applicants are encouraged to apply for the following scholarships (if eligible):
Admission Requirements
BSc in biochemistry, biology, genetics, chemistry, cell biology, microbiology, physiology or closely related disciplines.
Minimum 78% GPA in the undergraduate and master's degree; 85% for direct entry to the PhD program.
English Language Proficiency
Applicants whose first language is not English must furnish evidence of their proficiency in the use of the English language:
Application Deadline
February 1 - Fall or Summer Term
June 1 - Fall Term
October 15 - Winter Term
Acceptance notifications begin as soon as your application is completed and reviewed.
Fields of Research
Bioinformatics
Genome Dynamics, Epigenetics, and Gene Expression
Human Genetics and Clinical Biochemistry
Macromolecular Structure and Dynamics
Proteomics
Signal Transduction and Intercellular Communication