Biomedical Engineering PhD
Biomedical Engineering
Doctor of Philosophy (PhD)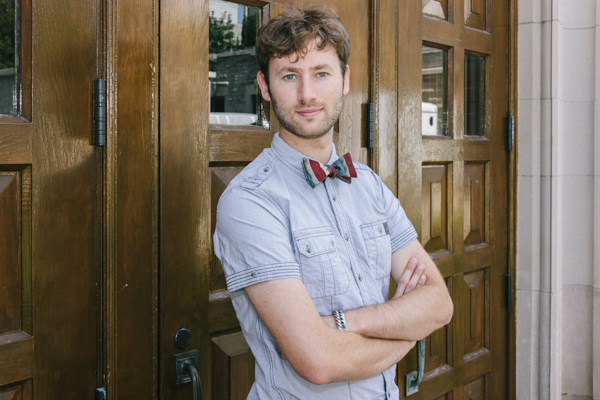 "If you research something you are passionate about, it never gets old."
Supervisor: Terence M. Peters
Describe your research.
My research is about using concepts in mathematical optimization to improve medical image segmentation. I am trying to develop algorithms that allow for clinicians to encode their anatomical knowledge in a way that a computer can readily understand. Ultimately, I hope to improve the quality, and meaningfulness, of interaction between doctors and computers with respect to medical image processing.
What suggestion would you like to share with the Western graduate community?
Take some time to share your research interests with a completely new audience. This could be through the 3 Minute Thesis competition, or volunteering with Retiring with Strong Minds. It really forces you to try to think of your research in a new way, and sometimes that's when really neat ideas start to pop-up.
What is your "dream" career?
My dream career is to do research on human computer interaction, but in an industry setting. Ideally, it would be something that mixes programming and prototype development with research and evaluation. My dream career is a lot like my graduate studies in that sense, there is always a new challenge just around the bend.
Where's your favourite place on campus?
My favourite place on campus is right outside Westchester Hall near the creek. It is very quiet and peaceful there and it's a great place to read and to enjoy Western's campus.
What is it about your grad program that enables you to thrive and be successful?
For me, it is the people inside my program, and my lab, who are so friendly and open to collaboration. We often try to help brainstorm ideas, and help address each other's' research problems. It's an amazing environment to be in.
Program Websites
Program Contact
Christine Ellwood
(
bmeoffice@uwo.ca
)
Program Coordinator
Biomedical Engineering Graduate Program
Western University
Amit Chakma Engineering Building, Room 2405
London, Ontario N6A 5B9
t.
519-661-2111 ext. 84288
The PhD in Biomedical Engineering offers specializations in Biomaterials, Biomechanics, Mechatronics, and Imaging.
Biomedical Engineering is a program that promotes the cooperative involvement of clinical and basic researchers in allied disciplines such as imaging, biomaterials, biomechanics and mechatronics. This program encourages multidisciplinary links between the faculties of Engineering, Medicine & Dentistry, and Health Sciences, Robarts Research Institute and London Health Research Institute, and Western's teaching hospitals.


The Own Your Future doctoral professional development program will help you become a career-ready graduate with the skills necessary to excel in your studies and achieve your future goals. By participating in the program, you will assess your own strengths and opportunities for growth, choose what skills you want to enhance during your time at Western, and learn how to articulate the skills you gained in your degree to optimize your future career opportunities. To learn more, visit www.uwo.ca/ownyourfuture.
Program Length
Program Design
Full-time study
Thesis-based
Funding Information
Applicants are encouraged to apply for the following scholarships (if eligible):
Admission Requirements
Minimum 80% (A-) average in the master's degree.
English Language Proficiency
Applicants whose first language is not English must furnish evidence of their proficiency in the use of the English language:
Application Deadline


March 1 - Summer term
July 1 - Fall term
November 1 - Winter term
Fields of Research
Biomaterials
Biomechanics
Imaging and Robotics
Mechatronics