Medical Biophysics
Master of Science (MSc)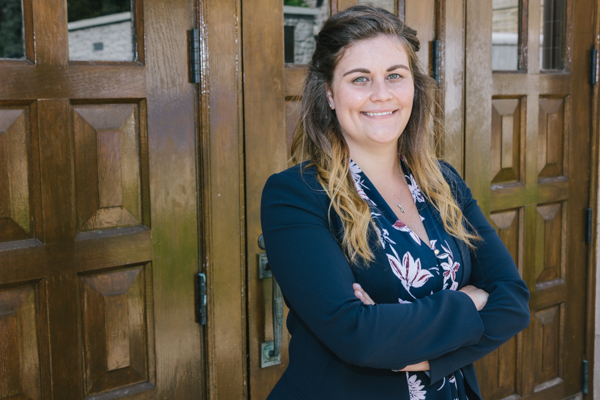 "I have a fantastic supervisor who encourages everyone in the lab to work together and socialize in a constructive way. Also, everyone in my year in Medical Biophysics, we all get along so well, and hang out a lot outside of work to de-stress."
Supervisor: Dr. Robert Bartha
Describe your research.
I am using magnetic resonance spectroscopy (MRS), a method used in MRI, that allows us to quantify brain metabolites in a region of interest. More specifically, I am quantifying these metabolites in order to look at changes in metabolism in the prefrontal cortex and white matter in women varsity rugby players before and after sport concussions. Hopefully with this research we will learn more about the pathophysiology involved in concussion, and come one step closer to finding a reliable biomarker to use in concussion diagnosis and prognosis.
Where is "home" for you?
I grew up in Waterdown, Ontario.
What are you most passionate about?
Teaching! I can't wait to be able to teach – it's why I applied to be a teaching assistant, and it's why I am also a part-time high school tutor.
What is your "dream" career?
I plan to be a clinician scientist in neurology, with a focus on neurodegeneration.
Do you belong to any university or community groups, such as clubs, choirs, etc? If yes, what are they?
I am a volunteer with Strong Bones Strong Minds Strong Muscles (SBSMSM). We focus on delivering science and research awareness to the community, hoping to shorten the gap between researchers and the public. We have different subcommittees; one is "raising hope through science" where we bring science experiments to the children's hospital to promote science and learning.
What one thing would you like people to know about you?
Probably my sense of humor. We all work so hard every day, and I think it's important to be able to have a good laugh with people; it makes work that much more enjoyable.
What's the best advice you could give to someone considering applying to your graduate program?
Look into the research that is happening at Western (including Robarts Research Institute and St. Joseph's Healthcare) in Medical Biophysics. Have a supervisor in mind that you want to work with so that you can make the best of your interviews/visiting campus, and include specific research goals in your application.
Program Websites
Program Contact
Elizabeth Oliveira
(
askmbp@schulich.uwo.ca
)
Graduate Recruitment Coordinator
Department of Medical Biophysics
Western University
Medical Sciences Rm 407
London, Ontario N6A 5C1
t.
519-661-2111 ext. 88030
f.
519-661-2123
The Department of Medical Biophysics works very closely with other university departments, research institutes, and hospitals in the City of London to offer unique graduate training opportunities in diverse fields including: cardiovascular disease, microcirculation, hemodynamics, biomechanics, and cancer. Biomedical imaging (CT, MRI, MRS, ultrasound, SPECT, PET-CT, PET-MRI, optical, photoacoustic) is a vigorous research area at the cellular, small-animal, pre-clinical, and clinical scale in our department. Our research program therefore gives students a chance to work with state-of-the-art equipment, often combining computational and experimental techniques.
The work of all our students, considered collectively, represents substantial accomplishments in a wide spectrum of physical, biological, and clinical science. Following graduation, you will find a rewarding career in the health care sector, biomedical industry, and academia; others pursue further training in professional schools such as medicine, dentistry, or business.
Program Length
Program Design
Full-time study
Thesis-based
Funding Information
Applicants are encouraged to apply for the following scholarships (if eligible):
Tuition and Fees
Tuition and fee schedules (per term) are posted on the Office of the Registrar's website at http://www.registrar.uwo.ca/student_finances/fees_refunds/fee_schedules.html
Admission Requirements
A four-year degree (or equivalent) from an accredited institution, with preference given to those in a STEM (Science, Technology, Engineering and Math) discipline.
Consideration will be given to applicants with a minimum of a 78% average, but preference given to applicants with a minimum of an A- or 80% average (final two years).
English Language Proficiency
Applicants whose first language is not English must furnish evidence of their proficiency in the use of the English language:
Application Deadline
June 1 – Fall Term
November 1 – Winter Term
March 1 - Summer Term