Business Administration PhD
Business Administration
Doctor of Philosophy (PhD)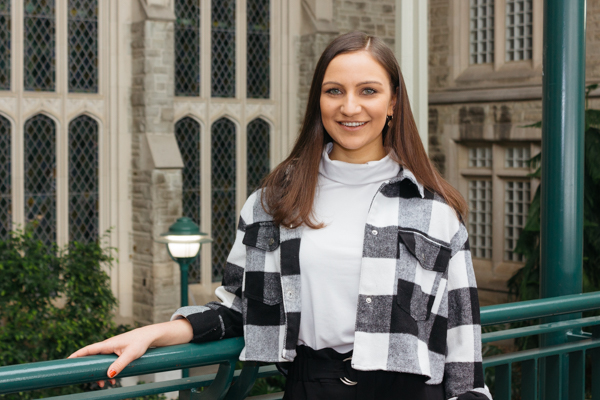 "I think it is very beneficial for PhD students to TA since teaching will be an important part of our future career, and in a TA position we can get to know and practice different aspects of teaching."
Why did you come to Western for your graduate degree?
I was mainly attracted by the research interests of my supervisors. They conduct research on different aspects of teamwork, especially in global and multicultural contexts, which is something I find very fascinating myself.
Describe your research.
I am investigating ethical decision-making in teams. How, when, and why do team members raise ethical issues? How do teams form collective judgements about what is "good" or "bad"? And which factors finally influence whether a team acts ethically or unethically? A specifically interesting aspect to me is the role of place, i.e., how where you are changes what you value. Living in a rural village may make environmental issues more salient, while living in a less wealthy city district may increase commitment to poverty-related issues. I believe that – especially for remote-working teams – members' places can impact team ethical decision-making.
What is it about your grad program that enables you to thrive?
It's really all about the people for me. I have developed friendships with many of my fellow PhD students, and I am working closely with faculty as well. It's incredibly important for me to have people around me who inspire me, help me cope with stressful situations, and just make every day a little more fun.
What is your "dream" career?
I'm not sure I have a specific "dream" career, but I would love to find a path that allows me to continue research and teaching, while also staying in touch with the 'real' business world. I could picture becoming a professor who does lots of executive teaching and conducts research projects with businesses; or I split my time between research/teaching and, for instance, consulting work in some form of part-time arrangements.
Program Websites
Program Contact
PhD Program Office
(
phd@ivey.ca
)
Admissions Coordinator
Ivey Business School
Western University
Ivey Building Rm 3367
London, Ontario N6G 0N1
Ivey's PhD Program in Business Administration is a full-time research-based program designed to develop scholars and to place its graduates at high quality research universities around the world.
The Ivey PhD Program seeks applicants with superior academic credentials and the motivation to excel at scholarly research in a chosen field. Our program is small and emphasizes close collaboration between the faculty and students. We favour applicants who can both articulate their scholarly interests and demonstrate a clear fit between their research interests and those of the faculty in their chosen area of specialization.


The Own Your Future doctoral professional development program will help you become a career-ready graduate with the skills necessary to excel in your studies and achieve your future goals. By participating in the program, you will assess your own strengths and opportunities for growth, choose what skills you want to enhance during your time at Western, and learn how to articulate the skills you gained in your degree to optimize your future career opportunities. To learn more, visit www.uwo.ca/ownyourfuture.
Program Length
Program Design
Full-time study
Thesis-based
Funding Information
Applicants are encouraged to apply for the following scholarships (if eligible):
Tuition and Fees
Tuition and fee schedules (per term) are posted on the Office of the Registrar's website at http://www.registrar.uwo.ca/student_finances/fees_refunds/fee_schedules.html
Admission Requirements
Please visit the Admissions website for more information.
Application Deadline
January 5: Applications open October 15.
Acceptance notifications are processed on a rolling basis beginning in February.
Fields of Research
Finance (not currently taking applications)
General Management
Information Systems
Management Science
Managerial Accounting and Control
Marketing
Operations Management
Organizational Behaviour