Management of Applied Science MMASc
Management of Applied Science
Master of Management of Applied Science (MMASc)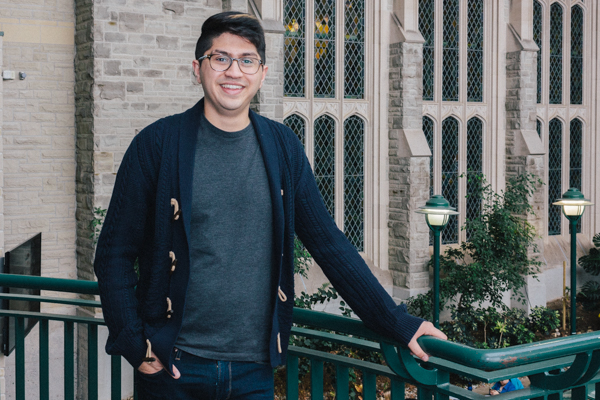 "The MMASc program is unique because it takes the fundamentals gained through my biology undergraduate degree, and applies them to a completely different discipline. What enabled me to thrive was being able to find my own connection between the two disciplines, and tailor my learning to what I wanted to gain from the courses."
What's the best advice you could give to someone considering applying to your graduate program?
The best advice I could give someone applying to my program is to take some time to think about potential career paths you think this program will get you to. Then, go talk to people in those positions and explain the program and what skills they use in their job. If after talking to them, taking this program makes sense, you will have an understanding of what you need to take away from the course work, and that will help you stay motivated and work towards your end goal.
Where was your favourite place on campus to work/study/research?
My favourite place on campus was the Physics and Astronomy atrium because it was quiet enough to get work done, but there was enough noise that you weren't afraid to strike up a conversation with your friend.
What are you most passionate about?
I am most passionate about helping others find their road to success by being involved with mentoring youth throughout my education and in my current role at TechAlliance, working with entrepreneurs to help grow their businesses. I find that when I can share my knowledge with others to help them find their way, there is no better feeling.
What is your "dream" career?
I wouldn't say I have a "dream" career but rather I have characteristics that I would be looking for in my dream job. These include working with people and on teams, collaborating to push the organization forwards, using both my creative and analytic skills, and always doing something challenging that allows me to grow with the organization.
What idea, suggestion, or comment would you like to share with the Western graduate community?
Don't be afraid to leave your bubble and explore the other faculties in the University.
Program Websites
Program Contacts
Bethany Heinrichs
(
bheinric@uwo.ca
)
Professional Program Coordinator (Applied Science and Biological Sciences)
Western University
North Campus Building 257
London, Ontario
N6A 5B7
t.
519-661-3617
f.
519-661-3703
---
Nassisse Solomon
(
ghs@uwo.ca
)
Program Coordinator (Global Health Systems)
Department of Microbiology & Immunology
Rm 3014, Dentistry Building
Schulich School of Medicine & Dentistry
t.
519-661-2111 Ext. 83180
A comprehensive program unique to Canada, students enrol in their Specialty Field (Applied, Sciences, Biological Sciences or Global Health Systems in Africa*) while taking Core Courses in management and communications. The MMASc curriculum bridges the divide between disciplines in science and their application to industry, providing the management and communication skills needed to build successful careers.
Program Length
Program Design
Full-time study
Course-based, project-based
Admission Requirements
Applied Sciences Field: Honours undergraduate degree in any of the sciences including health sciences, medical sciences, and engineering from an accredited university.
Biological Sciences Field: Honours BSc degree in a biological sciences related field from an accredited university.
Global Health Systems Field: Honours Undergraduate degree in a related field from an accredited university.
Minimum 70% average in the last two years of study.
English Language Proficiency
For details on our English Language Proficiency requirements please visit: uwo.ca/mmasc/admission/english_language_proficiency.html
Application Deadline
January 15 - Students who apply by this deadline will receive full consideration for the first round of offers.
March 1 – Second round offers.
April 1 - Final deadline for international applications.
August 15 - Final deadline for domestic/permanent resident applications.
Fields of Research
Applied Science
Biological Sciences
Global Health Systems