Chemical and Biochemical Engineering MESc
Chemical and Biochemical Engineering
Master of Engineering Science (MESc)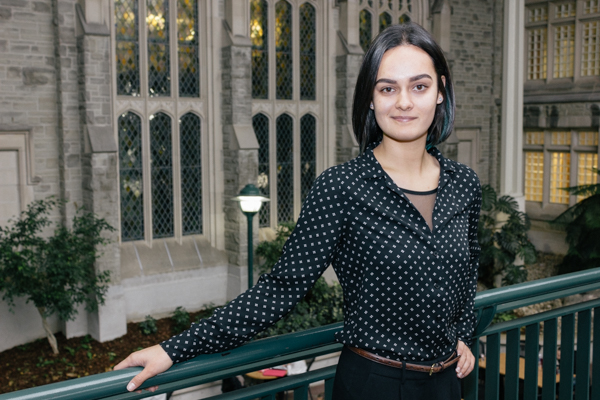 "The structure of the Chemical and Biochemical Engineering program allows me to manage my time the way I need to, so that I can maintain the many commitments I have both within and outside of Western."
Supervisor: Dominic Pjontek
Why did you come to Western for your graduate degree?
I was fortunate enough to be offered a research project at the end of my undergraduate degree by one of my professors. The project aligns with my interests, and requires skills which I had hoped to develop in graduate school, so I was happy to take on the challenge.
Where's your favourite place on campus?
My favourite place on campus to work is The Spoke. I like to have a certain level of visual and aural stimulation around when I need to focus, and on top of that The Spoke has good bagels.
What's the best advice you could give to someone considering applying to your graduate program?
For those interested in pursuing a research-based graduate degree in Chemical and Biochemical Engineering, I would recommend that you look for a project which interests you and a supervisor whose goals for the project align with your own.
Do you serve on any Department, Faculty, or University committees?
I am the current VP External of the Engineering Graduate Society.
Have you worked as a TA or RA?
I am currently working as a TA for the 4th year chemical plant design course. Being a TA for this course requires me to have a good understanding of chemical plant design, and to be knowledgeable about a variety of industrial processes; this generally improves my chemical engineering knowledge and makes me a more competent graduate student.
Program Websites
Program Contact
Marina Omelchenko
(
cbegrad@uwo.ca
)
Graduate Program Coordinator
Chemical and Biochemical Engineering
Western University
Thompson Engineering Building Rm 477
London, Ontario N6A 5B9
t.
519-661-2111 ext. 88352
f.
519-661-3498
The Master of Engineering Science program is a thesis based Master's degree. This program is offered to applicants who hold a four-year Bachelor's Degree. It is expected that graduate students will complete all program requirements within two years. There is no minimum residency period.
Program Length
Program Design
Full-time study
Thesis-based
Funding Information
Applicants are encouraged to apply for the following scholarships (if eligible):
Tuition and Fees
Tuition and fee schedules (per term) are posted on the Office of the Registrar's website at http://www.registrar.uwo.ca/student_finances/fees_refunds/fee_schedules.html
Admission Requirements
Minimum 78% average in a four-year honours degree or equivalent from an accredited university (average based on last two years of the degree).
Additional Requirements
Work experience is not mandatory, but applicants with work experience are given special consideration.
English Language Proficiency
Applicants whose first language is not English must furnish evidence of their proficiency in the use of the English language:
Application Deadline
Domestic Applicants:
July 1 - Fall Term
November 1 - Winter Term
March 1 - Summer Term
International Applicants:
March 1 - Fall Term
July 1 - Winter Term
November 1 - Summer Term
Acceptance notification begins as soon as your application is completed and reviewed.
Fields of Research
Biomaterials and Biochemical Engineering
Environmental and Green Engineering
Macromolecular and Materials Engineering
Particle Technology and Fluidization
Reaction and Process Systems Engineering
Water and Energy