Journalism and Communication MMJC
Journalism and Communication
Master of Media in Journalism and Communication (MMJC)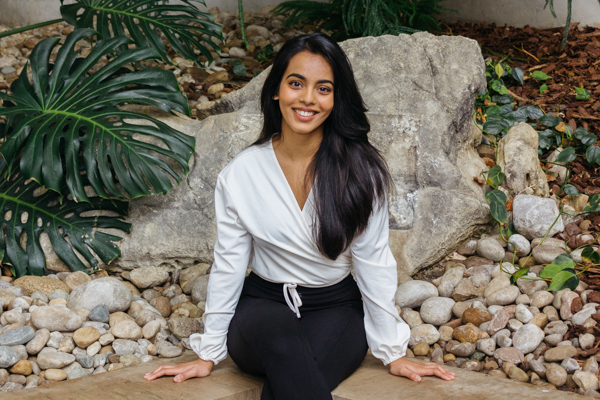 Why did you come to Western for your graduate degree?
First, I chose this program because it was built for beginners. They want applicants from all areas of life to apply. This makes for a more interesting group of peers. Second, this program prepares students in both journalism and communications, two fields that while different, are interrelated. Communication is a key skill for journalists. Think of marketing or promoting your work, your image, your brand, or the company you work for. Communication specialists who have studied journalism formally also have an edge compared to their counterparts. They know how to write effectively and tell a story. There is value in learning the other skill, though it may not be exactly what you are interested in pursuing. This is the program for you if you have a learner mindset.
Where's your favourite place on campus to work?
My favorite place on campus is the Spoke. I go there to study and hang out. It's a cool vibe. It's a great way to meet people.
What's the best advice you could give to someone considering applying to your graduate program?
The first thing would be to show range. Make a small portfolio. Record a three-minute podcast. Write an article. It doesn't need to be published work. Before I applied, I had no experience in media. I recorded my voice for an audio clip hunched down in a closet, filmed using the camera on the back of my phone, and edited on basic software like garage band and iMovie. The admission committee is looking for enthusiasm and potential. If you were already perfect, you wouldn't need this program. Secondly, follow your gut – if there's something you want to share in your admission essay, or a piece of work you feel is important to include in your portfolio, do it. Talk about your dreams, your goals, inspirations, and even insecurities. When you produce work that you're passionate about, it shows.
Program Websites
Program Contact
Shelley Long
(
slong@uwo.ca
)
Graduate Programs Assistant
Faculty of Information and Media Studies
Western University
FIMS and Nursing Building, Room 2020
London, Ontario N6A 5B7
t.
519-661-4017
f.
519-661-3506
Western's Master of Media and Journalism and Communication (MMJC) program will allow graduates to move seamlessly between journalism and communications careers. We have taken the best features of Journalism at Western – a tradition of great storytelling and ethical journalism – and added more. In addition to being able to work as journalists, grads will be qualified for employment in a wide array of communications-related fields. And they will have the social media, content creation and media production skills they will need to thrive as media continue to evolve. Students interested in working with not-for-profit organizations, NGOs, and other activist groups will be particularly interested in the program.
Program Length
Program Design
Full-time study
Course-based
Funding Information
Tuition and Fees
Tuition and fee schedules (per term) are posted on the Office of the Registrar's website at http://www.registrar.uwo.ca/student_finances/fees_refunds/fee_schedules.html
Admission Requirements
Four-year degree or equivalent and have an average of at least 70% in the last two years of full-time study.
Additional Requirements
Students entering the MMJC must have mastered basic writing skills, including grammar, syntax, and the ability to conceptualize and articulate ideas in writing. The Admissions Panel assumes the entrance essay provided by applicants is entirely their own work and is an accurate reflection of their writing ability. Journalism and communication, by necessity, require their practitioners to produce clean, competent copy on deadline, often without the benefit of external editing or extensive rewriting. Students who do not meet the expectations of writing may not achieve marks necessary for progression and could be required to withdraw from the program..
English Language Proficiency
Applicants whose first language is not English must furnish evidence of their proficiency in the use of the English language:
Application Deadline