Management
Master of Management (MM)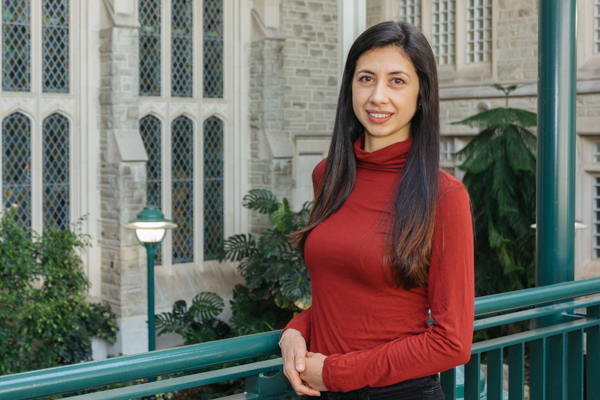 "Courses in the MM program are designed not just to improve your knowledge or learn about data management, data analysis, leadership, business, and finances. They encourage you to use and improve on the most used tools for data analysis, allowing you to be at the forefront of the software currently used by the industry."
Why did you come to Western for your graduate degree?
Ivey has an excellent reputation for business programs, and has been a pioneer in many initiatives to connect students in a global environment with high-quality education. Being part of the Ivey alumni network is a door to success in a professional environment.
Where's your favourite place on campus to work?
The MM program is mostly taught online, in-person sessions are held a weekend per month at the Donald K. Johnson Centre in Toronto, and there is one residential week each term at the Ivey Spencer Leadership Centre. In the Spencer Centre, there are some breakout rooms good for studying – it is a quiet environment and they are conveniently equipped to recreate a business environment.
Do you engage in any volunteer activities?
Yes, I engage in activities with a real purpose to help people in need. In London, I had a great opportunity to volunteer as a board member at CGCC for a few months and at TD Sunfest.
What's the best advice you could give to someone considering applying to your graduate program?
If you are not familiar with R and Python, I strongly recommend you start learning now. There are tons of free online courses.
Program Websites
Program Contact
Ally Hobson
(
mma@ivey.ca
)
Associate Director, Master of Management Recruitment & Admissions
Ivey Business School
1255 Western Road
London, Ontario, Canada
A 12-month, while-you-work management program. Starting in September. Strategically designed to accelerate careers of data-driven professionals, Ivey's Master of Management (MM) allows you to continue working while earning your MM. This program works around your schedule with a blended delivery of online and powerful classroom experiences at Ivey's downtown Toronto campus.

The Ivey Master of Management program will build on your foundation of analytics and take your career to the next level by providing you with business fundamentals and management skills. The MM will equip you with the tools you need to manage teams of highly qualified professionals, ensuring you are ready to lead the future of business. The program begins in September with a one-week residential session in London. One weekend a month, you will attend an in-class session in downtown Toronto. You will also attend virtual classes on Wednesday evenings. You will experience two additional immersive residential weeks throughout the program for a total of three.

Program Length
Program Design
Full-time study
Course-based
Funding Information
For information on loans, scholarships and bursaries, visit the Ivey MMA website.
Tuition and Fees
Tuition and fee schedules (per term) are posted on the Office of the Registrar's website at http://www.registrar.uwo.ca/student_finances/fees_refunds/fee_schedules.html
Admission Requirements
An undergraduate degree with at least two years of full-time work experience.
A strong academic history with a B average, or 75%, or 3.0 GPA achieved during the two most recent years of academic study.
Additional Requirements
The Analytics field requires additional specific requirements:
University-level course work in the following three areas: Calculus, Linear Algebra, Probability and Statistics.
Knowledge of at least one programming language, demonstrated through university-level course work or work experience.
Demonstrated readiness and enthusiasm to translate theoretical concepts and quantitative analysis into meaningful insights as demonstrated through your references, undergraduate experiences and admissions interview.
While a GMAT or GRE score is not required, it may be recommended to help strengthen the application.
English Language Proficiency
Applicants whose first language is not English must furnish evidence of their proficiency in the use of the English language:
Application Deadline
December 16, 2021: Round one offers.
March 21, 2022: Round two offers.
May 16, 2022: Round three offers.
July 11, 2022: Round four offers.
Fields of Research