Classics
Master of Arts (MA)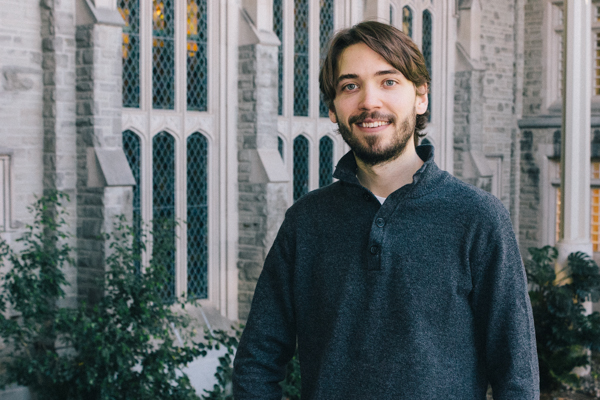 "The community of students and professors with whom I work enable me to thrive and be successful in my program. Their friendly support and interest in each other's diverse fields of study make this department a welcoming and nurturing learning environment."
Supervisor: Dr. Alexander Meyer
Why did you come to Western for your graduate degree?
After completing my Undergraduate degree in Classics at Western, I was eager to take my studies to the next level and I already knew that the faculty in my department were the people who I wanted to do this with.
Describe your research in 100 words or less.
My thesis examines the written documentary evidence (inscriptions, writing tablets, etc.) of the use of Latin as a second language in the Roman province of Britain. This linguistic evidence provides data for the dynamics of language contact in the very mobile Roman Empire.
What is your "dream" career?
I want most of all to start a career where I can employ my experiences in field archaeology in a practical setting. Taking part in excavations has always been my favourite part of both of my degrees. I love working outdoors in all weather and motivating team members to achieve ambitious goals, but I don't need to limit myself to a career in archaeology. I am open to other industries that meet my work preferences.
Have you worked as a teaching assistant or research assistant?
I have been a TA for two courses at Western, a TA for the Classics Department's Vindolanda Field School in Northern England, and I have been a Research Assistant for one of my professors for two years as well. I've enjoyed each assignment for different reasons.
Being a TA for courses at Western has consolidated much of my knowledge, and I have acquired teaching skills and improved my lecturing capabilities. My assignment as the TA for the Vindolanda Field School was doubtlessly the highlight of my Master's degree. It was phenomenal to share my knowledge of Roman archaeology, something that I am so passionate about, with a group of hard working students who wanted to travel across the world to learn the material. Not only did I assist in organizing the field school, I also supervised excavators from Europe and North America and I value that experience highly.
What are you most passionate about?
Music. Nothing comes more naturally to me or brings me more joy. It doesn't matter if I'm playing or listening or if I am alone or with friends or strangers, I just love music.
What one thing would you like people to know about you?
The time I excavated in Rome in 2014. Nothing comes close to digging in a great European city, walking through the streets for a month and learning the language, all well getting covered in mud for five days a week.
What's your favourite book?
Panzer Commander by Colonel Hans von Luck. I was a World War II history buff before I got into ancient history. These are the memoirs of a German army Colonel who served in every theater of Europe. It's a modern Odyssey. Von Luck was a polyglot and it is so interesting to read about his positive interactions with so many different Europeans. He belonged to an age older than his own. I would like to find a copy in its original German but I think that only an English version was ever published.
Program Websites
Program Contact
Jonathan Vickers
(
jvicker6@uwo.ca
)
Graduate Assistant/Coordinator
Department of Classical Studies
Western University
Lawson Hall Rm 3205A
London, Ontario N6A 5B8
t.
519-661-2111 ext. 87842
Classics is the original interdisciplinary program. Students research and explore the multifaceted cultures of ancient Greece and Rome, from language and literature, to aspects of ancient political, military or social history, to the physical remains of these ancient cultures as evident in archaeological artefacts. We offer a balanced mix each year of seminars in Greek poetry and prose, Latin poetry and prose, and seminars in ancient history or archaeology. These courses consist primarily of analysis and interpretation of source materials (whether literary or archaeological). Student assessment is based on a combination of active participation in class discussions, presentations, research papers and exams. The overall goal of the M.A. program is to train students to be sophisticated readers of ancient evidence, and to develop their skills in critical thinking, as well as in written and oral communication.
Program Length
Program Design
Full-time study
Thesis-based or course-based
Funding Information
Applicants are encouraged to apply for the following scholarships (if eligible):
Tuition and Fees
Tuition and fee schedules (per term) are posted on the Office of the Registrar's website at http://www.registrar.uwo.ca/student_finances/fees_refunds/fee_schedules.html
Admission Requirements
Honours level degree in Classics or Classical Studies.
Obtained at least a high B average in the undergraduate degree.
Completed at least three years of either Greek or Latin and two years of the other language, at the undergraduate level.
Students with a strong academic record but without the requisite language levels for admission may be admitted, but will be required to take 3rd year level Greek and/or Latin courses along with their selected graduate courses.
English Language Proficiency
Applicants whose first language is not English must furnish evidence of their proficiency in the use of the English language:
Application Deadline
January 15 - Acceptance notification by February 15
Applications received after January 15 are contingent on space availability and funding.
Fields of Research
Ancient History
Archeology/Material Culture
Classics (Greek and Latin Philology and Literature)