Clinical Medical Biophysics MSc
Clinical Medical Biophysics
Master of Science (MSc)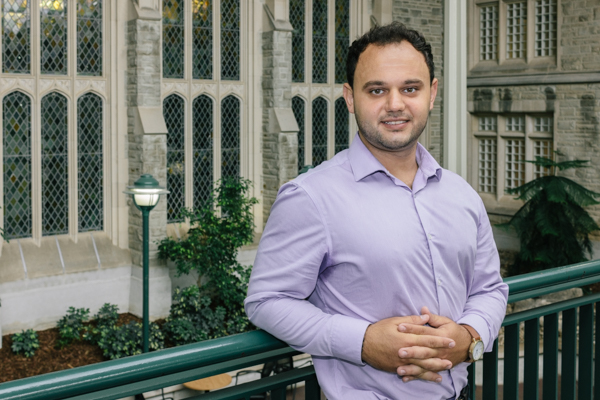 "This program has amazing faculty scientists and world-class facilities."
Supervisor:
Ian Cunningham
What is it about your grad program that enables you to thrive and be successful?
The Medical Biophysics department has wide network of scientist throughout London, with labs at Victoria Hospital, St. Joseph Hospital, University Hospital, Robarts Research Institute and other Western facilities. This wide networks has allowed me to network with many scientist from various fields and could lead to new collaboration opportunities in the future. Also, my colleagues in Medical Biophysics and the Schulich student network have provided me with support which is essential for my success.
Where's your favourite place on campus?
My favourite place to work on research is Robarts Research Institute. It has everything I need: my lab, my desk and other fellow colleagues whom I consume copious amounts of coffee with. I also enjoy studying and reading on the Grad Club patio during a warm summer day.
Have you taken any professional courses that Western makes available to grad students ?
Yes, I've attended various MyGradSkills/GradWriting courses and found the topics very relevant to graduate student interested in further developing their careers. It was useful to discuss thesis or grant writing with other grad students from different programs because they provided new insight. I also took the Advanced Teaching Program from the Teaching and Learning Center, which provided teaching practice and an opportunity to learn different teaching styles.
Do you engage in volunteer activities?
Yes, I am the Society of Graduate Students (SOGS) department representative, the Event Coordinator for Strong Bones, Strong Minds, Strong Muscles (SBSMSM), and the Co-Chair for Retiring with Strong Minds (RWSM)
Program Websites
Program Contact
Umera Ali
(
uali@uwo.ca
)
Graduate Recruitment Coordinator
Department of Medical Biophysics
Western University
Medical Sciences Rm 407
London, Ontario N6A 5C1
t.
519-661-2111 ext. 88030
f.
519-661-2123
The Department of Medical Biophysics provides a CAMPEP-accredited graduate training program for students interested in a Medical Physics career.

This is a one-year course-based MSc degree, taught by university- and hospital-based faculty.

Courses include radiobiology, medical imaging, radiological physics, anatomy/physiology, practice and quality assurance and practical radiotherapy physics.

Enrichment opportunities include a research project, and hands-on Linac calibration available by competitive enrolment.

Program Length
Program Design
Full-time study
Course-based
Funding Information
All accepted candidates eligible for:
Western Graduate Research Scholarship
Ontario Graduate Scholarship
Teaching Assistant Stipend
Research Assistant Stipend
Internal and National Scholarships
Admission Requirements
A four-year degree (or equivalent) from an accredited institution.
A four-year undergraduate degree in physics, engineering, or an undergraduate minor in physics. The minor is defined by completing at least three upper-level traditional physics courses. All applications are adjudicated by the CAMPEP Program Director.
Consideration will be given to applicants with a minimum of a 78% average, but preference given to applicants with a minimum of an A- or 80% average (final two years).
English Language Proficiency
Applicants whose first language is not English must furnish evidence of their proficiency in the use of the English language:
According to SGPS, the minimum acceptable score for TOEFL is 86 with no individual score below 20 for the internet based version; 213 for the standard electronic version; or 550 for the paper and pencil version. The Medical Biophysics graduate program ONLY accepts iBT TOEFL scores. Only complete applications with an overall iBT score of 92 will be considered with no individual score below 20 for the internet based version.
Application Deadline