Electrical and Computer Engineering MESc
Electrical and Computer Engineering
Master of Engineering Science (MESc)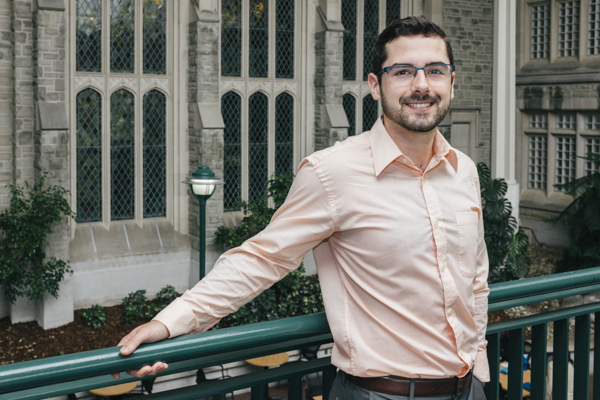 "I am from a software engineering background, but I am constantly learning new things outside of my field and this keeps my work interesting for me."
Why did you come to Western for your graduate degree?
During my second year of undergraduate studies, I was the recipient of an NSERC Undergraduate Student Research Award. This award permitted me to complete a research assistant placement over the summer, gave me research experience, and provided an opportunity to work in a new area. My experience convinced me to pursue graduate studies and led to the discovery of my current graduate project.
Where's your favourite place on campus?
Most of my time on campus is spent in a lab at Robarts Research Institute near University Hospital. This is a convenient spot for me as it is close to other students and researchers in the field.
What is it about your grad program that enables you to thrive and be successful?
The interdisciplinary nature of the program. I have had the opportunity to do my research alongside faculty and students from the departments of medical biophysics, biomedical engineering, and kinesiology as well as scientists at Robarts Research Institute and Lawson Health Institute.
What's the best advice you could give to someone considering applying to your graduate program?
The best advice I have is to work with your supervisors and any help available. Sometimes I find that I work for a long time on a small and very specific issue with my research, and the solution is often found after a discussion with a supervisor or colleague who may have had a similar problem in the past. Even if a solution is not available, it is good to hear different opinions or approaches to problems.
Program Websites
Program Contact
ECE Graduate
(
ecegrad@uwo.ca
)
Graduate Coordinator
Department of Electrical and Computer Engineering
Western University
Thompson Engineering Building Rm 279
London, Ontario N6A 5B9
t.
519-661-2111 ext. 88310
f.
519-850-2436
The Department of Electrical and Computer Engineering offers graduate programs at the masters (M.E.Sc. and M.Eng.) and doctoral (Ph.D.) level in the following research areas: biomedical systems, communications systems and data networking, applied electrostatics and electromagnetics, microsystems and digital signal processing, power systems engineering, robotics and control and software engineering.
Program Length
Program Design
Full-time study
Thesis-based
Funding Information
Applicants are encouraged to apply for the following scholarships (if eligible):
Tuition and Fees
Tuition and fee schedules (per term) are posted on the Office of the Registrar's website at http://www.registrar.uwo.ca/student_finances/fees_refunds/fee_schedules.html
Admission Requirements
Minimum 78% average in the last two years of study in a four-year honours degree or equivalent from an accredited university.
Additional Requirements
Work experience is not mandatory, but applicants with work experience are given special consideration.
English Language Proficiency
Applicants whose first language is not English must furnish evidence of their proficiency in the use of the English language:
Application Deadline
Domestic applicants:

Admissions are offered on a rolling basis. Applicants will be considered for the next available term.

International applicants:


July 31 - Fall Term
November 30 - Winter Term
March 31 - Summer Term
Please refer to the ECE graduate website for details regarding supporting documentation deadlines and acceptance notifications.
Fields of Research
Biomedical Systems
Communication Systems and Data Networking
Microsystems & Digital Signal Processing
Power Systems Engineering
Robotics & Control
Software Engineering