Electrical and Computer Engineering PhD
Electrical and Computer Engineering
Doctor of Philosophy (PhD)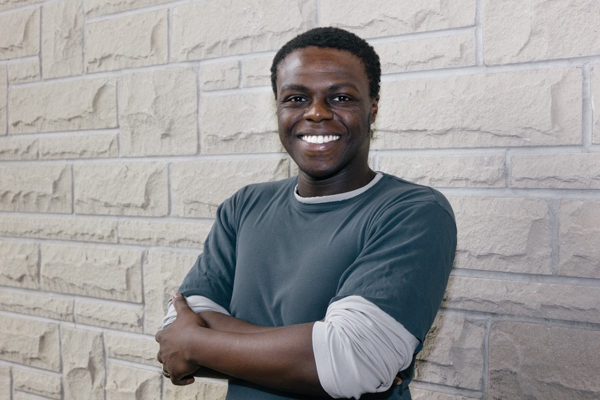 "It's a great program, with many opportunities and helpful professors. Overall, it is an amazing university to attend and well worth the effort."
Supervisor: Kenneth McIsaac
Why did you come to Western for your graduate degree?
I heard great things about my supervisor and the department. I also have a science and planetary science background, so I wanted to come and leverage my experience with the CPSX (Centre for Planetary Science and Exploration) group in Earth Sciences.
Where is "home" for you?
The wild wastelands of the Essex Rivera in England.
Describe your research.
I am developing a system that reconstructs objects in 3D using pictures and extracts geological measurements from the reconstructions.
Do you belong to any university or community groups?
I was previously a member of the Kung Fu and Tai Chi club and the Geology football team.
What is it about your grad program that enables you to thrive and be successful?
There are many things about my graduate program that enables me to thrive and be successful. First, the caliber of my classmates. Second, the approachable and knowledgeable instruction of the professors. Third, the opportunity to have balance, so it's not all about work, which is good for the mind.
Program Websites
Program Contact
ECE Graduate
(
ecegrad@uwo.ca
)
Graduate Coordinator
Department of Electrical and Computer Engineering
Western University
Thompson Engineering Building Rm 279
London, Ontario N6A 5B9
t.
519-661-2111 ext. 88310
f.
519-850-2436
The Department of Electrical and Computer Engineering offers graduate programs at the masters (M.E.Sc. and M.Eng.) and doctoral (Ph.D.) level in the following research areas: biomedical systems, communications systems and data networking, applied electrostatics and electromagnetics, microsystems and digital signal processing, power systems engineering, robotics and control and software engineering.


The strength and reputation of our PhD program is a result of our internationally renowned faculty, world-class facilities, and the students who thrive in an intellectually stimulating environment. Western is pleased to offer Own Your Future, a unique Doctoral professional development program that supports students in their academic studies and career engagement. Through Own Your Future, students will develop insight into their current and evolving skill set. To learn more, visit www.uwo.ca/ownyourfuture.
Program Length
Program Design
Full-time study
Thesis-based
Funding Information
Applicants (domestic and international) are encouraged to apply for the following scholarships:
Admission Requirements
Successful completion of a research master's degree in engineering, physical, computer or life sciences.
Achieved at least a 78% average in the master's degree.
Additional Requirements
Work experience is not mandatory, but applicants with work experience are given special consideration.
English Language Proficiency
Applicants whose first language is not English must furnish evidence of their proficiency in the use of the English language:
Application Deadline
Domestic applicants:
April 14 - Fall Term
August 19 - Winter Term
December 5 - Summer Term
International applicants:


March 1 - Fall Term
July 1 - Winter Term
November 1 - Summer Term
Please refer to the ECE graduate website for details regarding supporting documentation deadlines and acceptance notifications.
Fields of Research
Applied Electrostatics & Electromagnetics
Biomedical Systems
Communication Systems and Data Networking
Microsystems & Digital Signal Processing
Power Systems Engineering
Robotics & Control
Software Engineering