Electrical and Computer Engineering PhD
Electrical and Computer Engineering
Doctor of Philosophy (PhD)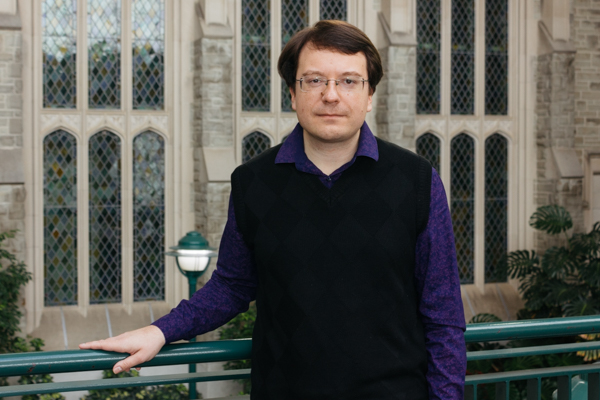 "I knew where I was going, I had financial support for several years, and an opportunity to earn another degree from one of the best Canadian universities."
Where did you complete your undergraduate degree?
National Research University of Information Technologies, Mechanics and Optics (ITMO University), St. Petersburg, Russia
Describe your research.
My research area is drilling automation. The objective is to design several automatic control algorithms for a drilling system, assuming that our knowledge about characteristics of the material that we are drilling is extremely limited, and measurements from the bottom end are often unavailable. These control techniques should bring the whole system into a certain desired stable mode of operation.
What is it about your grad program that enables you to thrive?
A good relationship with my supervisor and general support from the university (financial package, career services, availability of other resources).
Do you engage in volunteer activities?
I volunteered as a Peer Guide with International and Exchange Student Center. This was one of my best experiences at Western, because it gave me a sense of belonging to a great community of other volunteers. I was able to support new international students and make new friends, while practicing leadership and communication skills.
What's the best advice you could give to someone considering applying to your graduate program?
If you are from another country, it would be a great experience for you, an opportunity to immerse yourself into a new environment, to do research in an interesting field, and to enhance your skills while living in Canada.
Program Websites
Program Contact
ECE Graduate
(
ecegrad@uwo.ca
)
Graduate Coordinator
Department of Electrical and Computer Engineering
Western University
Thompson Engineering Building Rm 279
London, Ontario N6A 5B9
t.
519-661-2111 ext. 88310
f.
519-850-2436
The Department of Electrical and Computer Engineering offers graduate programs at the masters (MESc and MEng) and doctoral (PhD) level in the following research areas: biomedical systems, communications systems and data networking, applied electrostatics and electromagnetics, microsystems and digital signal processing, power systems engineering, robotics and control and software engineering.


The Own Your Future doctoral professional development program will help you become a career-ready graduate with the skills necessary to excel in your studies and achieve your future goals. By participating in the program, you will assess your own strengths and opportunities for growth, choose what skills you want to enhance during your time at Western, and learn how to articulate the skills you gained in your degree to optimize your future career opportunities. To learn more, visit www.uwo.ca/ownyourfuture.
Program Length
12 Terms (Full-time studies)
18-24 Terms (Flex-time studies)
Program Design
Full-time study and flex-time study
Thesis-based
Funding Information
Applicants are encouraged to apply for the following scholarships (if eligible):
Tuition and Fees
Tuition and fee schedules (per term) are posted on the Office of the Registrar's website at http://www.registrar.uwo.ca/student_finances/fees_refunds/fee_schedules.html
Admission Requirements
Successful completion of a research master's degree in engineering, physical, computer or life sciences.
Achieved at least a 78% average in the master's degree.
Additional Requirements
Work experience is not mandatory, but applicants with work experience are given special consideration.
English Language Proficiency
Applicants whose first language is not English must furnish evidence of their proficiency in the use of the English language:
Application Deadline
Domestic applicants:

Admissions are offered on a rolling basis. Applicants will be considered for the next available term.

International applicants:


July 31 - Fall Term
November 30 - Winter Term
March 31 - Summer Term
Please refer to the ECE graduate website for details regarding supporting documentation deadlines and acceptance notifications.
Fields of Research
Biomedical Systems
Communication Systems and Data Networking
Microsystems & Digital Signal Processing
Power Systems Engineering
Robotics & Control
Software Engineering