Environment and Sustainability MES
Environment and Sustainability
Master of Environment and Sustainability (MES)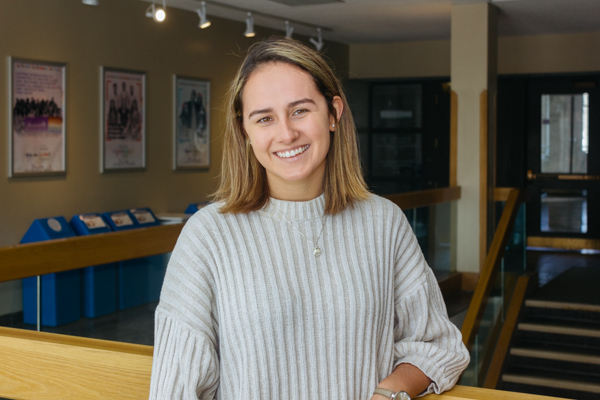 "Although the program can seem daunting at first, there is no need to stress about it. It is very different than an undergraduate degree, but you will get the hang of it very quickly."
What is it about your grad program that enables you to thrive and be successful?
I believe that the workshop component of my grad program enables me to thrive and be successful. The creators of the program really thought through what skills they believed that we should have when we leave the program and they are all contained within the workshops. After completing each workshop, I can add a new skill to my resume.
How do you de-stress?
Bubble baths and deep breathing!
Where's your favourite place on campus to work?
The North Campus Building because it is usually quiet on the second floor and it is close to all of my classes.
What's your favourite book?
I am a big fan of biographies and I specifically like Anne Frank's.
What is your "dream" career?
My dream career would be working within the private sector for a business that is trying to be more sustainable. I would like to be a Corporate Sustainability Advisor who crunches the numbers on how that business can still be profitable while decreasing their harm to the environment.
Program Websites
Program Contact
Holly Sanderson
(
hsanders@uwo.ca
)
Program Administrator
Centre for Environment & Sustainability
Western University
Western Science Centre Rm 109
London, Ontario N6A 5B7
t.
519-661-2111 ext. 82570
The Master's in Environment and Sustainability program is an accelerated, interdisciplinary course-based Master's degree program with a co-operative work placement term, completed in one full year of study. Students in the program begin study in September and complete their degree the following August.
Program Length
Program Design
Full-time study
Course-based
Funding Information
Applicants are encouraged to apply for the following scholarships (if eligible):
Admission Requirements
4-year undergraduate degree in any discipline*, from an accredited university (BA, BSc, B.Eng)
A third and fourth year combined average of 78% or greater (entrance average)
Applicants who have already completed a Master's degree may apply, using both undergraduate and graduate transcripts
English Language Proficiency
Applicants whose first language is not English must furnish evidence of their proficiency in the use of the English language:
Application Deadline
February 1 International admission - Acceptance notification March 1
February 1 Domestic early admission - Acceptance notification March 1
March 1 - Domestic final admission Acceptance notification April 1