Anatomy and Cell Biology MSc
Anatomy and Cell Biology
Master of Science (MSc)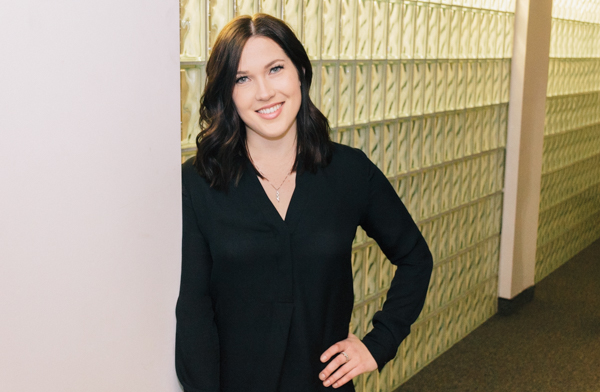 "Anatomy and Cell Biology is such a reputable department, and the program is an awesome mix of not only course work and research, but there are endless opportunities to TA, observe surgeries, and give lectures, all of which were big attractions for me coming to Western."
What is it about your grad program that enables you to thrive and be successful?
One of the best things about the program is the resources that are right at our finger tips. We're really fortunate to have full access to the human anatomy lab, anatomy museum, and not to mention the resources that we have access to for research purposes. On top of all that, we have the most supportive department and faculty. If I'm ever stumped on my research, or have any kind of question for that matter, there are experts in the field just down the hall whose doors are always open! As students, we're really lucky to have such an encouraging department, and inspiring environment.
What's the best advice you could give to someone considering applying to your graduate program?
Find what makes you happy, and discover your niche! If you're passionate about what you're learning and researching, then you're bound to be successful. I don't begrudge a single day I come to campus; I absolutely love it!
Where is "home" for you?
Caledon, Ontario
Where did you complete your undergraduate degree?
University of Waterloo, Kinesiology
Why did you come to Western for your graduate degree?
I found out about the program in my second year of undergraduate program, and as I worked my way through undergrad I realized how perfect this program was for me – it's directly in line with my goals. I've always wanted to teach anatomy, and there's a big emphasis on teaching methods, education techniques, and soft skill development, which is hard to find with other graduate programs. I don't just want to teach anatomy, but I want to be great at teaching anatomy, and I think I'm on the long road there thanks to this ACB and Western. I honestly can't imagine myself anywhere but Western!
Describe your research in 100 words or less.
I'm working with Dr. Alan Getgood at the Fowler Kennedy Sport Medicine Clinic on campus, and I'm looking at the ligamentum mucosum in the knee joint. My research involves cadaveric dissections, histology, immunohistochemistry, and biomechanical testing to analyze the morphological characteristics and functional properties of this ligament, and hopefully shed some light on its potential role in the knee joint.
Have you worked as a TA or RA?
One of my favorite things about the program is the teaching experience we gain through various TA positions. Not only have I grown as a teacher and communicator, but in order to teach the material you have to know it inside and out, so my understanding of anatomy and histology has developed even more so through all the TA positions.
What one thing would you like people to know about you?
I was a competitive figure skater and homeschooled until I was 16.
Program Websites
Program Contact
Elizabeth Oliveira
(
anatomy@uwo.ca
)
Department of Anatomy & Cell Biology
Western University
Medical Sciences Rm 443
London, Ontario N6A 5C1
t.
519-661-2111 ext. 81524
f.
519-850-2906
The Anatomy & Cell Biology Program offers a modern collaborative training experience catering to the needs of the individual student pursuing an MSc degree. Our dedicated, award-winning mentors and state-of-the-art facilities provide a rich training environment in which students can immerse themselves in one or more academic disciplines, including cell biology, neurobiology, anatomical sciences, and/ or education scholarship.
The research stream is a research-intensive, thesis-based program designed to prepare students for a career as a research scientist in academia or industry.
The clinical stream offers a unique training experience consisting of course work, research, and hands-on teaching experience; and is intended to prepare the next generation of medical educators and scholars.
Program Length
5 Terms (Course-based)
6 Terms (Thesis-based)
Program Design
Full-time study
Course based or thesis-based
Funding Information
Applicants are encouraged to apply for the following scholarships (if eligible):
Admission Requirements
4-year honours degree or equivalent, in a Life or Allied Health Science, or a degree in Dentistry, Medicine or Veterinary Science.
Minimum 80% (A-) average for the most recent two years of undergraduate study, or the most recent 10 full senior level courses.
Additional Requirements
Research experience is recommended for the research stream.
English Language Proficiency
Applicants whose first language is not English must furnish evidence of their proficiency in the use of the English language:
Application Deadline
Clinical Stream
February 1 - Acceptance notification begins in April and continues until July 31
Research Stream
February 1 - Summer Term and Fall Term
June 1 (pending spots remaining) - Fall Term
October 15 - *Winter Term
*Positions are not regularly available for summer/winter terms. Acceptance notifications for the fall term begin in March and continue until July 31.
Fields of Research
Cell Biology
Clinical Anatomy
Neurobiology